Custom Energetics
Excelitas has extensive experience with designing, manufacturing, and testing a wide range of energetic components including actuators, detonators, initiators, and timers.  The products are manufactured to precise standards enabling high reliability and consistency from device to device.  The initiation mechanisms include exploding foil initiators (EFI), exploding bridge wire (EBW), and laser initiators.  Detonators, actuators, and timers are manufactured and tested as build-to-print products for the NNSA.  
Additional Resources
Why should you choose Excelitas as your custom energetic solutions provider?
At Excelitas, we have built an expansive energetics portfolio to meet the custom requirements of multiple industries. We design, test and manufacture energetic components for electronic safing, initiation, actuation and detonation applications. Our proficiency in energetic device performance and testing is derived from more than three decades of combined experience by our scientific, engineering and manufacturing personnel.
What types of energetic technologies do you offer?
Our energetic products are manufactured according to precision standards to ensure maximum safety and reliability. Rest assured that our initiators – which include exploding foil initiators (EFI), exploding bridge wire (EBW), and laser initiators – are designed with superior performance in mind. Additionally, our detonators, actuators and timers go through high-quality testing before being delivered as build-to-print products for the National Nuclear Security Administration (NNSA).
What are the safety requirements for energetic components?
Efficient materials are incorporated into our initiators for enhanced safety. We also add a layer of protection to the design of our actuators,
detonators
and timers. Further, our laser-initiated energetic devices exhibit the same performance properties as hot wire-initiated solutions. Custom designs and outputs are also available for these devices to meet application-specific criteria. Let us know if you want fiber-coupled or integrated solutions when you order your optical initiators from us.
What are the applications of energetic products?
Custom energetic components can be applied to a variety of applications. Different types of actuators, power machines and devices are employed in the aerospace, automotive, electrical, food and beverage and medical industries. Yet, we are proud that our actuators, detonators and timers are integrated into the work done by the NNSA. Specifically, our
Blue Chip family of detonators
comprise low-energy exploding foil initiators, which have been qualified to MIL-DTL-23659 Appendix A, for in-line use. We also offer
laser-initiated ordnance
components, which are ideal in applications with challenging electrical environments.
Can energetic systems be customized?
Yes. For instance, our Blue Chip detonators are developed with either 2 or 6 pin TO-5 headers that can be used as surface mount, plugged into a connector, or attached to a flexible tape strip line. As for our laser-initiated ordnance, you can have it configured as fiber-coupled or into integrated solutions. Simply put, if you don't find the specific requirements for your project or application, you can
contact us
to learn more about our custom services. The Excelitas team is more than happy to tailor our energetic technologies to your needs, and we have a proven track record of doing so for numerous clients and applications.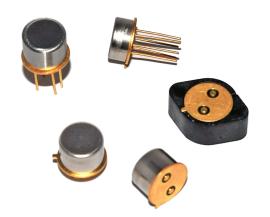 Detonators
Excelitas offers a line of low-energy exploding foil initiators that has been trademarked as the Blue Chip<sup>®</sup> detonators. Our Blue Chip family of detonators includes a range of explosive outputs as well as inert variants for use during testing.
Read More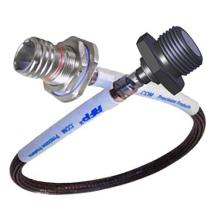 Laser Initiated Ordnance
Excelitas offers Optical Initiators that focus a specific wavelength of light to initiate a pyrotechnic material. Our laser-initiated ordnance components are ideal in applications with challenging electrical environments.
Read More