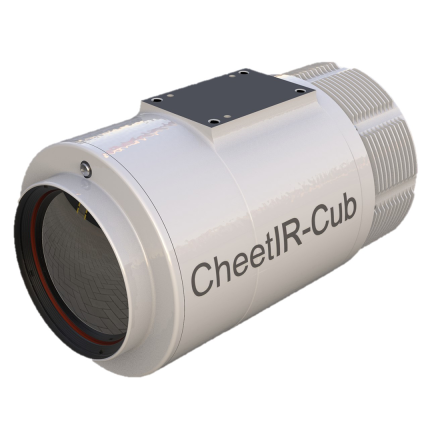 CheetIR-Cub Compact, Standard Definition MWIR Camera
CheetIR-Cub provides an affordable, low weight, low power MWIR thermal imaging camera. With analogue video output (PAL), the CheetIR-Cub thermal camera can be retrofitted into existing platforms as an upgrade solution, enhancing system performance. The CheetIR-Cub incorporates a 640 x 512 10μm focal plane array (FPA) providing enhanced resolution for better target discrimination. Additionally, the integrated linear cooler results in a quieter solution for applications where low audibility is essential.
The growing demand for more agile and cost-effective platforms continues to drive the need for reduction in size, weight and power (SWaP) of systems.  In relation to thermal cameras, a low SWaP solution such as the CheetIR-Cub. allows for fielding within less obtrusive packages which  enable smaller ancillary items to control and steer them thus, reducing the system weight, and power draw needed for operation and therefore, allowing for a smaller power source.  Further to the requirements for SWaP reductions, the need to extend constrained budgets further places additional importance on affordability. 
Compact Size - smaller than many other comparable systems in terms of size versus performance. Can be used in discreet applications whilst providing high-quality imagery.
Low Power - requiring less than 5W power, CheetIR-Cub can be powered from fixed or mobile power sources making it suitable for a variety of applications.
Low Audibility - the integrated linear cooler not only provides excellent MTBF, but is a low audibility solution suitable for applications where emitted noise needs to be kept to a minimum.
System Upgrade - CheetIR-Cub provides PAL video output with a VGA format meaning that it is suitable as an upgrade solution for many fielded legacy cameras. The small pixel pitch detector coupled with the faster F-number optics offers improved imaging and range performance compared to legacy cameras, and an interface which does not require changes to existing infrastructure.
Cost Effective - CheetIR-Cub is designed to be a more affordable MWIR solution than many other cameras on the market, and without compromising on image quality.
Key features include:
High performance continuous zoom optical module
On-board image processing (Polarity, AGC, DRC)
VGA format (640 x 512) 10µm focal plane array
Low audibility, low power linear cooler