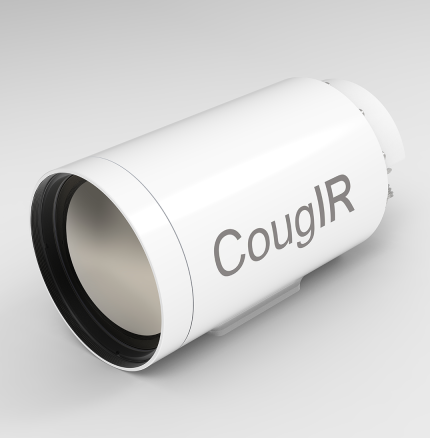 CougIR Medium Range, Uncooled LWIR Camera
CougIR is a compact, medium-range, uncooled LWIR camera suitable for applications where continuous zoom functionality is required and space is limited. Utilizing uncooled microbolometer technology, CougIR is designed to integrate both current and future generation sensors to provide highest quality imaging within a small package at a competitive price. This LWIR camera is ideally suited for short to medium range surveillance or targeting applications.
CougIR is a compact, continuous zoom camera compatible with the latest High Definition (HD) variant detectors. The camera is suitable for use as a stand-alone thermal imaging camera for surveillance and targeting applications or integrated into multi-sensor systems.
CougIR Features:
Eyes on the Target - 6x continuous optical zoom to maintain eyes on target through zoom
Suitable for today and tomorrow - optimized for 17µm and 12µm pixel pitch detectors up to XGA format allowing for high quality imaging performance.
Small Form Factor - compact design for space constrained applications such as small gimbals or turrets. 
Uncooled Long Wave Infrared (LWIR) technology is mature, proven and cost effective. CougIR is a high performance, affordable solution offering excellent imaging even through sand, dust, high humidity, fog and other battlefield obscurants. The flexibility of incorporating 17µm or 12µm arrays provides the system integrator with the ability to tailor the most appropriate solution while managing system costs.
The configurable, continuous zoom capability affords the operator the ability to maintain eyes on the target at all times, even through zoom. Alternatively, the zoom can be configured as a stepped option to allow fast change between pre-determined Fields of View (FOV) as desired.