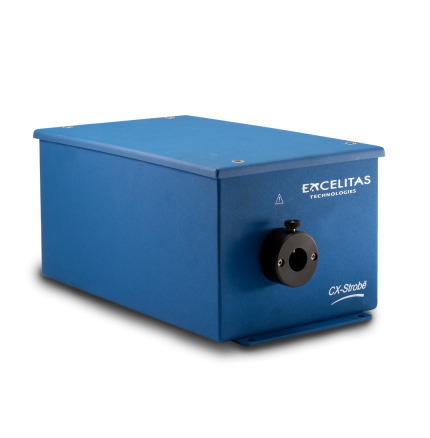 PART/ CX Series
CX-Series Fiber Optic Strobes
The Excelitas CX-Strobe™ Fiber Optic Vision and Illumination Systems produce maximum light output with a wide range of flash rates. They offer high output, long life and superior reliability. The CX-Strobe incorporates our latest innovations in Xenon flashlamp technology, power supply engineering, trigger performance, and reflector design. The CX-Strobe is housed in a closed, powder coated aluminum enclosure for operation in harsh, demanding environments.
The CX Series of Xenon flashlamp strobes  produce intense pulses of radiant energy covering the ultraviolet (UV), visible (VIS) and near infrared (NIR). When coupled with a CCD-CID camera system, the strobe freezes motion which eliminates blur and enhances image quality. Several variations of the CX-Strobe are available, each optimized for maximum light output within a range of flash rates.  External signal inputs allow you to further customize the strobe to your application. 
The universal AC power supply recognizes AC voltage from 100 V to 240 V with line frequencies from 50-60 Hz. Easy installation of the Xenon flashlamp allows easy and quick lamp replacement. 
Long lifetime
High intensity full spectrum light
CE certified
Easy and quick lamp replacement
Enclosed housing for harsh environments
Long lifetime
High intensity full spectrum light
CE certified
Easy and quick lamp replacement
Enclosed housing for harsh environments