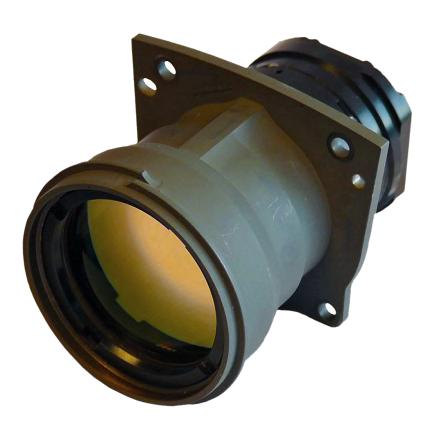 Eyepiece Assemblies and Collimators for Thermal Weapon Sights
Eyepiece modules present a magnified image of the thermal scene to the user, overlaying sight information including battery life and aiming marks. Collimators have a larger exit pupil and are set at zero dioptres to enable clip-on sight capablity for use with a day optic.
Excelitas has manufactured and deployed more than 200,000 eyepiece assemblies worldwide, including AMLCD or OLED displays. Solutions are optimized for VGA and SXGA displays providing excellent image clarity over the entire image. We provide both unique solutions to customer specifications and generic COTS assemblies which may be configured to the your specific requirements.
Collimator Assemblies
Eyepiece collimators may be used as an eyepiece magnifier or as a collimator with a standard  day optic. Collimators are designed to provide a total sight magnification of x1 and the aberrations are matched to the objective lens to provide optimal performance. Collimators are athermalized to maintain sharp focus over the entire military temperature range.
For more information, contact us today.