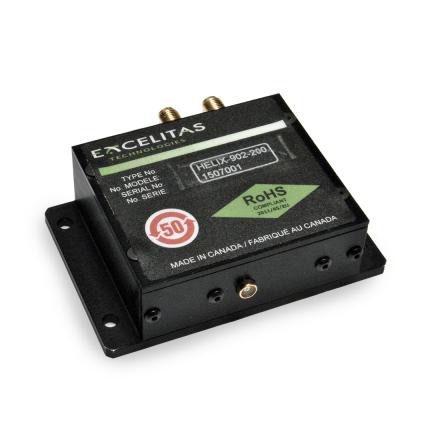 PART/ HeliX-9xx-200
HeliX Si APD Module
The Excelitas HeliX Silicon Avalanche Photodiode (APD) Module is a compact, easy-to-use, analogue low-light-level detection (L³D) module employing Excelitas' leading-edge Si APD chips. The detector is in a hermetic TO-package, mounted on a practical OEM-based printed circuit board (PCB) which includes high-voltage power supply, temperature compensation, a low-noise transimpedance amplifier, APD bias monitor and micro-controller.
In this compact voltage-output module, the preamplifier gain is optimized to obtain maximum dynamic range and linearity with the APD at its gain adjustable operating voltage. The module design optimizes APD operation in key performance parameters such as higher sensitivity, and better signal-to-noise ratio across the 400 nm - 1100 nm wavelength range.
The HeliX APD module is offered as a standard, commercial-off-the-shelf (COTS) product. It contains a choice of 2 high-performance 0.5 mm diameter reach-through Silicon APDs, one of which is optimized for 1064 nm responsivity.
In addition to our standard, off-the-shelf APD module, Excelitas also offers customized modules tailored to the needs of the customer. Depending upon customer requirements, modifications can include a different APD, a cost effective PCB module, optional calibration, bandwidth optimization, FC-connectorized packaging, and customized testing.
High responsivity: 650 kV/W @ 900 nm for both models, 360 kV/W @ 1060 nm for HeliX-954-200
Transimpedance amplifier
50Ω SMA output connector
Temperature compensation to stabilize gain and responsivity
User controllable gain and responsivity
Single + 5V operating voltage at input provides HV and LV internal biases for APD and TIA
User-friendly compact footprint
ROHS Compliant
High responsivity: 650 kV/W @ 900 nm for both models, 360 kV/W @ 1060 nm for HeliX-954-200
Transimpedance amplifier
50Ω SMA output connector
Temperature compensation to stabilize gain and responsivity
User controllable gain and responsivity
Single + 5V operating voltage at input provides HV and LV internal biases for APD and TIA
User-friendly compact footprint
ROHS Compliant