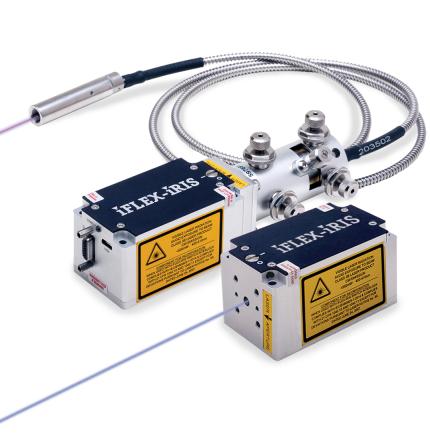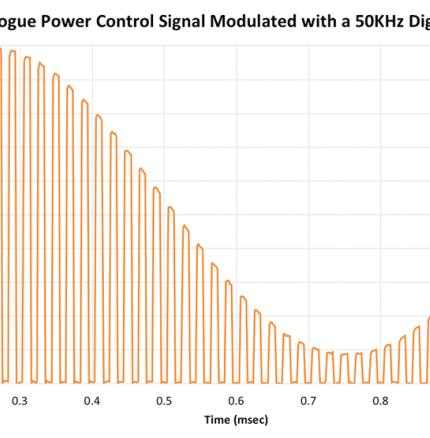 iFLEX-iRIS Compact Diode & DPSS Laser Series
Rising from our Qioptiq® photonics heritage, our iFLEX-iRIS™ Lasers represent a compact, high-performance, laser illumination source delivering exceptional power stablility and low amplitude noise for high-resolution bio-imaging, ophthalmology and metrology applications. iFLEX-iRIS Lasers feature on-board Closed-Loop Modulation and are available in wavelengths from 375-852 nm at power levels up to 200 mW. They are ideal for both free-space use or with our kineFLEX® polarization-maintaining fiber-delivery system.
Ultra-Stable Closed-Loop Modulation
iFLEX-iRIS comes standard with Closed-Loop Modulation (CLM) for further performance stability with very low periodic noise. CLM allows iFLEX® lasers to operate with automatic power control feedback in all modes of operation; CW, digital-, analogue- and dual-mode modulation. iFLEX CLM maintains reliable power stability from 0.1–100% throughout the extended service life.
For Free-Space or Flexible Fiber-optic Delivery
Our modular kineFLEX single-mode, polarization-maintaining fiber optic delivery system option allows iFLEX-iRIS to be located remotely from the sample, in an easily accessible, safe location. The kineFLEX fiber delivery system provides additional spatial filtering of the laser output for almost perfect Gaussian beam quality. Now you can replace the laser source without time-consuming repositioning and alignment to the subject.
iFLEX-iRIS Features
Highly stable output
New First-in-class Closed-Loop Modulation
Exceptional Power Stability
Ultra-low periodic noise
Extreme low RMS and peak-to-peak noise
Integrated electronics & TEC control
Wavelengths: 375 nm - 852 nm
Power options up to 220 mW
Output Beam 0.7 ± 0.2 mm
Operating Mode CW with output power adjustment options
Single-mode, linearly polarized output beam
Plug-and-play free-space or fiber-coupled delivery
CDRH Compliant interlock power supply
Typical Applications
Metrology
Flow cytometry
Confocal and laser scanning microscopy
Dynamic light scattering
Forensics
TIRF
High-throughput screening
High-resolution imaging systems
DNA screening
Genomics
Ophthalmology
Learn more about iFLEX-iRIS Lasers and order online at our Qioptiq-Shop.
Wavelengths: 375 nm - 852 nm
Power options: ≤ 220 mW
Output beam: 0.7 ± 0.2 mm
Beam circularity: ≤ 1:1.2
Spatial mode, TEM∞: M2 < 1.2 typ
Power stability (8hrs): < 0.5%
RMS noise (20 Hz - 20 MHz): <0.05%
Laser module (mm): 70L x 40W x 38H
Wavelengths: 375 nm - 852 nm
Power options: ≤ 220 mW
Output beam: 0.7 ± 0.2 mm
Beam circularity: ≤ 1:1.2
Spatial mode, TEM∞: M2 < 1.2 typ
Power stability (8hrs): < 0.5%
RMS noise (20 Hz - 20 MHz): <0.05%
Laser module (mm): 70L x 40W x 38H