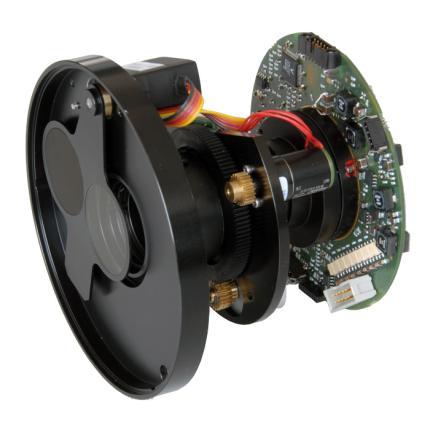 PART/
Luma X Fluoroscopy Camera System
The Luma X-System is a 1k² camera for human fluoroscopy. It features a very flat design to allow a short image chain and offers comprehensive data processing options. The Luma X-system combines high-performance optics, mechanics and electronics into a modular lens system optimized for the special requirements of X-ray diagnostics. The multi-functional mount allows easy adaptability to most image intensifiers for quick and cost effective installations.
User-Friendly Interface
The integrated electronics of the LumaCam provides 14-bit digital signal processing and bad pixel compensation, GigE Vision data transfer — with no frame grabber required, and almost unlimited cable length. Also on board and controlled through the GigE interface are a motorized iris, a swing-in neutral density filter and an online light measurement for X-ray dose control. Moreover the system offers various image processing functions like: circular blanking, shading correction, edge enhancement, and different recursive filter factors.
High-Resolution Optics
The 1:1.6 high aperture LumaGon objective lens is specifically designed to achieve optimum resolution when combined with the small sensor of the LumaCam.
Features
Very flat design in order to create a short
image chain
Easy control of ND-filter and iris via GigE
Vision interface
Asynchronous image capture and readout
Real-Time Image Processing Benefits
Frame rate 30 fps
14 bit digital signal processing
Bad pixel compensation
Frame on demand
Adjustable circular blanking window
Shading correction: horizontal and vertical tilt and dome
Gamma correction, adjustable, compensation of the non-linearity of the X-ray image intensifier
Edge enhancement and histogram equalization improve contrast
Image flip (horizontal and vertical)
Negative image
Image subtraction for DSA
Automatic gain control
Last image hold
Recursive filter factors 2, 4, 8, and 16
Ooptional Auto Motion Detection
Sensor: interline transfer CCD; progressive scan with microlenses
Resolution: 1024 (H) x 1024 (V)
Sensor format: ½ inch; 5,5 μm x 5,5 μm pixel size
High effective dynamic range of 61dB and a full well capacity of 20.000e-
Output/Control interface: GigE Vision
Wire length up to 100 m and no frame
grabber required
Power consumption of 4 Watts only, 12V – 32V DC
Sensor: interline transfer CCD; progressive scan with microlenses
Resolution: 1024 (H) x 1024 (V)
Sensor format: ½ inch; 5,5 μm x 5,5 μm pixel size
High effective dynamic range of 61dB and a full well capacity of 20.000e-
Output/Control interface: GigE Vision
Wire length up to 100 m and no frame
grabber required
Power consumption of 4 Watts only, 12V – 32V DC