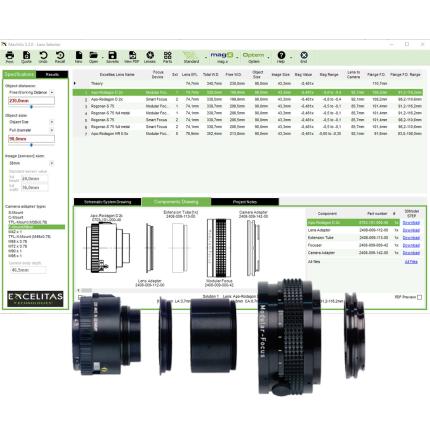 MachVis Lens Configurator
Excelitas offers our complimentary MachVis Lens Configurator to help you identify the perfect LINOS® or Optem® lens solution for your imaging or machine vision requirements. MachVis identifies all required mechanical accessories that you will need and generates useful supporting documentation to streamline your integration planning and ordering processes. MachVis is available as a software download that provides you with all LINOS and Optem lens solutions and a detailed user guide or an easy-to-access online application including all LINOS lens solutions. Try our new online application today and create your own user profile so you can access your individual configurations on any mobile device!
Driven by your Application Parameters
MachVis Lens Configurator is designed to help you find the right lens for your machine vision application.
Based upon four key parameters of your application, MachVis will provide the lens solutions that are most suitable to your specification:
Object size
Working distance
Sensor size
Camera mount type
MachVis specifies all necessary accessories (e.g. focusing units, extension tubes, magnifying objectives, camera mount adapters, objective lenses, etc.) and generates an itemized list of all part numbers with a schematic drawing in the order of assembly.
Datasheet PDFs are also available for detailed analysis, as well as downloadable 3D CAD data with a single click to build into your system drawings as needed. All specifications, along with your own project notes, can be easily saved for archiving and future reference.
| | |
| --- | --- |
| MachVis 5.3 Requirements |   |
| CPU | ≥ 1 GHz |
| RAM | ≥ 256 MB |
| Screen Resolution | 1024x768 |
| Operating System | [Windows XP, Vista], Win 7, Win 8 or Win 10 |
| Input Device | Keyboard and Mouse |
MachVis OnLine Requirements
Internet Connection and Pre-installed Browser
| | |
| --- | --- |
| MachVis 5.3 Requirements |   |
| CPU | ≥ 1 GHz |
| RAM | ≥ 256 MB |
| Screen Resolution | 1024x768 |
| Operating System | [Windows XP, Vista], Win 7, Win 8 or Win 10 |
| Input Device | Keyboard and Mouse |
MachVis OnLine Requirements
Internet Connection and Pre-installed Browser