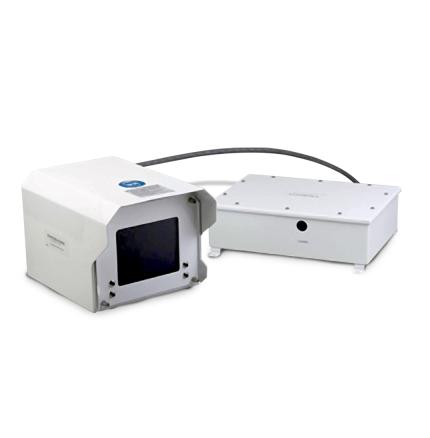 PART/
MVS-5770 Series IR Direct Illumination Strobes
The Excelitas MVS-5770 Series are high intensity, Xenon strobes for direct illumination applications. An infrared longpass filter eliminates all the visible light from the Xenon spectrum. The system is ideal as a high intensity invisible IR source for applications such as license plate illumination on moving vehicles or nighttime surveillance.
The MVS-5770 flash lamp system is housed in a rugged weatherproof, enclosure to provide protection against harsh environments. This strobe can also be used without the filter for any application that requires a large area of intense illumination.
One power supply option is available with energies up to 50 J per flash. The intensity can be controlled with an external reference signal, and a trigger input allows you to synchronize the flash with your camera.
The spectral output of the Xenon flash lamp covers the full spectrum from ultraviolet (UV) through the visible (VIS) to the infrared. The standard IR filter removes all the wavelengths under 780 nm, making the strobe invisible to the human eye. The spectral output can be changed to match your application by simply changing the filter. Additionally, two reflector options are available for narrow beam (8°) or wide beam (25°) configuration.
High intensity
Long life
Very low maintenance
Short pulse width
Easy lamp replacement
Rugged, weather-proof enclosure
High intensity
Long life
Very low maintenance
Short pulse width
Easy lamp replacement
Rugged, weather-proof enclosure