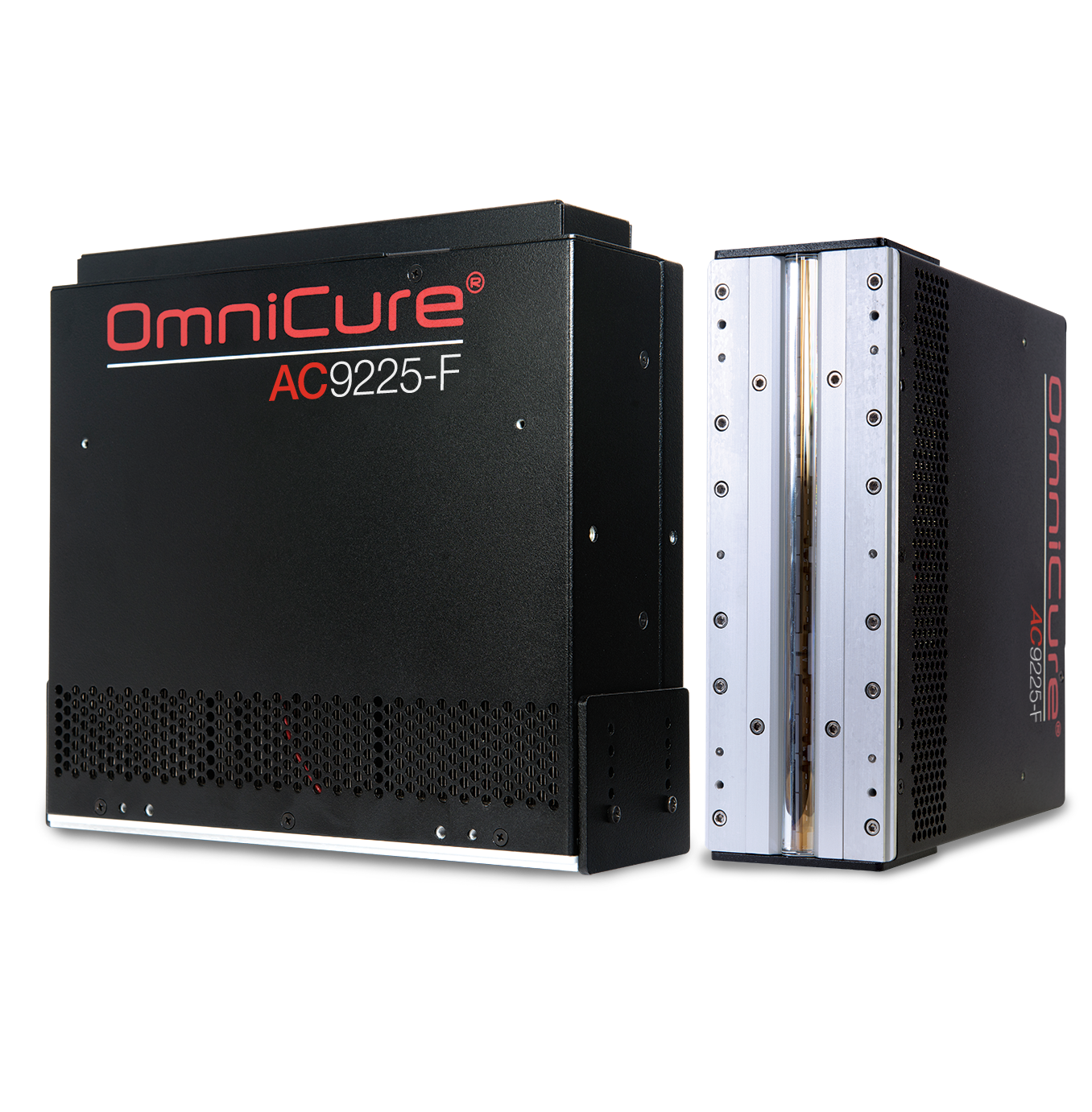 PART/ AC8225-F+ and AC9225-F
OmniCure AC8225-F+ and AC9225-F LED UV Fiber Curing System
OmniCure® AC8225-F+ and AC9225-F LED UV curing systems are designed for fiber curing applications. Featuring a custom optical design to enhance output and optimize delivery of UV onto the fiber, the OmniCure AC8225-F+/AC9225-F provide an air-cooled, high output solution to meet the market demand for increased process speeds. The AC8225-F+ delivers up to 16 W/cm2 peak irradiance at a 10 to 18 mm working distance while the AC9225-F offers up to 20 W/cm2 peak irradiance. Featuring a replaceable outer window and the same mechanical enclosure, the OmniCure AC8225-F+/ AC9225-F systems enable customers to easily scale production speeds without complex changes in integration.
Both the OmniCure AC8225-F+ and AC9225-F UV curing systems utilize a patented LED control technology to provide exceptional uniformity and the ability to adjoin multiple systems while maintaining optical uniformity between each system.
These LED UV fiber curing systems reduce electrical power consumption by up to 60% compared with traditional arc lamp systems for exceptional cost savings and no compromises in line speed. With over 40,000 hours of LED lifetime and no replacement parts, maintenance costs are even further reduced.
See Related Content below to read our Application Note on UV LED Curing of Optic Coating Materials.
 

AC8225-F+

AC9225-F

Peak Wavelengths

395 nm +/- 5 nm

Active Optical Area

225 x 15 mm

Typical Power Consumption*

600 W

900 W

Typical Peak Irradiance (W/cm2)

 

Working Distance

10 mm

16.3

21.8

13 mm

16.0

21.4

15 mm

15.3

20.7

18 mm

14.1

19.7

Longitudinal Uniformity*

Better than +/- 10%

Operating Voltage

48 V DC +/- 2 V

Dimensions (L x W x H)

235 x 80 x 220 mm

Weight (kg)

2.7

Cooling

Air

Life Expectancy (L70)

>40,000 hours

Automation

Integrated PLC controls

LED Warranty

3 years or 20,000 service hours
*At 100% intensity setting
High optical output and irradiance: High speed, even curing for fiber applications
Custom front-end optics: Optimal delivery of UV onto fiber at longer working distances
Shared mechanical enclosure: Scalable production speeds or expansion into new applications without complex changes in integration
Patented LED control technology: Superior uniformity across the entire curing area
Adjoining system modules: Obtain +/- 10% uniformity between heads for even and consistent curing over any curing area size
Air-cooled design: Easily integrate into any workstation with no additional venting, ozone extraction or chillers required
Highly-efficient LED modules: Electrical cost savings with reduced power consumption by up to 60% compared to lamp systems
40,000 hour typical lifetime: Reduced running costs compared to arc lamp solutions
 

AC8225-F+

AC9225-F

Peak Wavelengths

395 nm +/- 5 nm

Active Optical Area

225 x 15 mm

Typical Power Consumption*

600 W

900 W

Typical Peak Irradiance (W/cm2)

 

Working Distance

10 mm

16.3

21.8

13 mm

16.0

21.4

15 mm

15.3

20.7

18 mm

14.1

19.7

Longitudinal Uniformity*

Better than +/- 10%

Operating Voltage

48 V DC +/- 2 V

Dimensions (L x W x H)

235 x 80 x 220 mm

Weight (kg)

2.7

Cooling

Air

Life Expectancy (L70)

>40,000 hours

Automation

Integrated PLC controls

LED Warranty

3 years or 20,000 service hours
*At 100% intensity setting
High optical output and irradiance: High speed, even curing for fiber applications
Custom front-end optics: Optimal delivery of UV onto fiber at longer working distances
Shared mechanical enclosure: Scalable production speeds or expansion into new applications without complex changes in integration
Patented LED control technology: Superior uniformity across the entire curing area
Adjoining system modules: Obtain +/- 10% uniformity between heads for even and consistent curing over any curing area size
Air-cooled design: Easily integrate into any workstation with no additional venting, ozone extraction or chillers required
Highly-efficient LED modules: Electrical cost savings with reduced power consumption by up to 60% compared to lamp systems
40,000 hour typical lifetime: Reduced running costs compared to arc lamp solutions