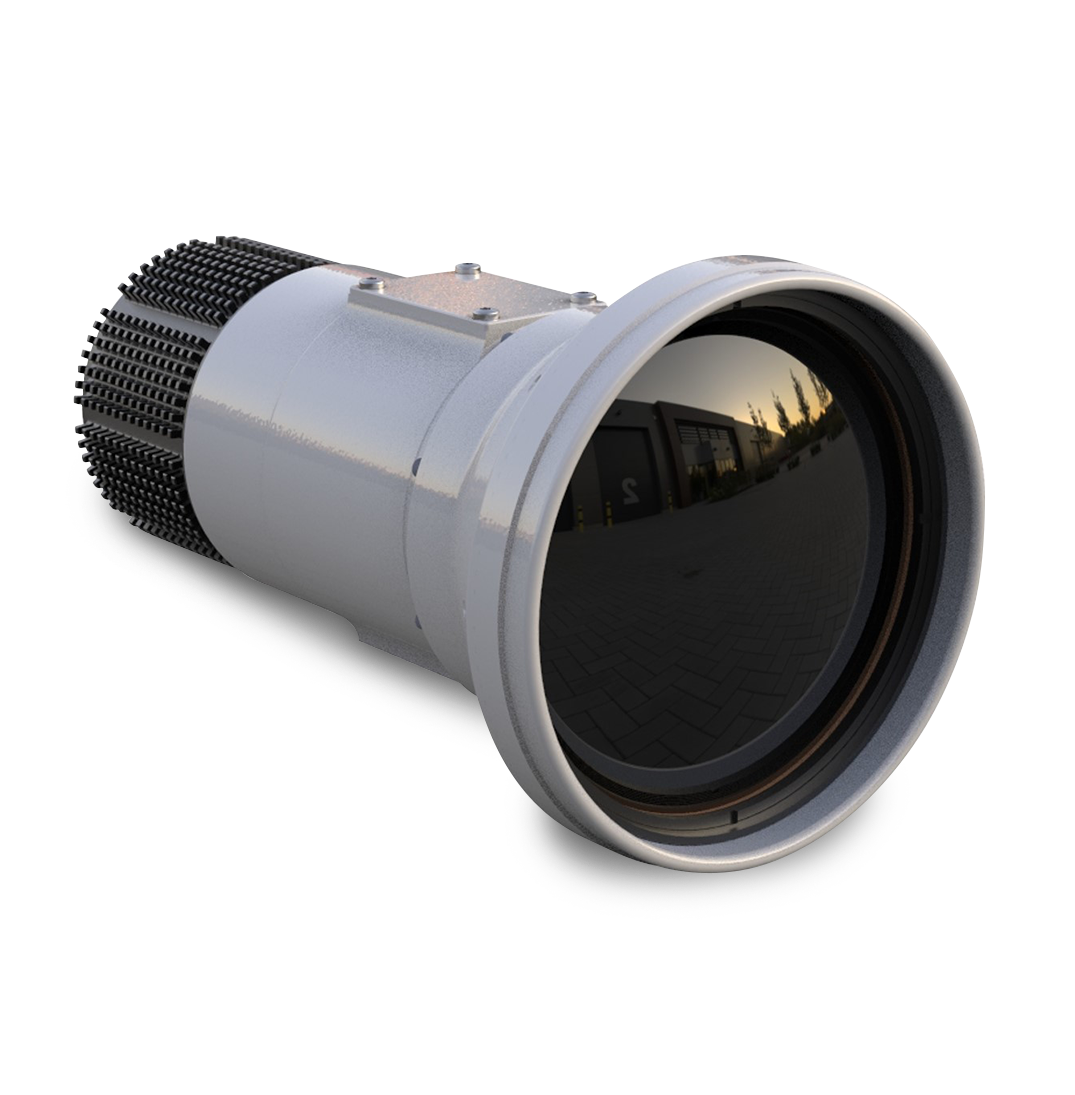 PART/ 120300
OrcIR Long Range High Definition Thermal Imager
OrcIR is a High-Definition (HD) Mid-Wave-Infrared (MWIR) Thermal Imaging Camera. The camera combines a ruggedized x14 continuous zoom capability with the very latest in High-Operating Temperature (HOT) MWIR detector technology providing exceptional imagery. OrcIR has been developed to provide extended range performance for applications including Counter-UAS and Surveillance platforms. An optional tilted window makes it particularly suited for marine/naval applications including surveillance and fire control applications. 
High-Definition resolution allows for earlier recognition and identification of targets, providing the user additional time to determine the most appropriate mitigation activity. The video output is provided in digital format (HD-SDI) to allow for integration into current and future systems.
The x14 continuous optical zoom allows the user to acquire targets of interest in the wide field of view and maintain imagery whilst zooming in to a narrower field of view to achieve identification. If desired, the camera may be programmed for discrete fields of view as required. The camera has a focal length range of 30 mm to 500 mm.
OrcIR utilizes a High Operating Temperature (HOT) cooled detector. This technology reduces the burden on the cooler and thus increasing the Mean Time Between Failure (MTBF), an important consideration when assessing through life costs. OrcIR has a MTBF of in excess of 16,000 hours as standard. Variants with extended lifetime are available on request.
OrcIR utilizes the proven common optical module as used within the CheetIR range of cameras to provide proven performance and economies of scale.  It has also been future proofed to allow the integration of smaller pixel detectors once readily available, improving resolution and range performance.
Key Features
High Definition (HD) 1280 x 720, 10um resolution
x14 Continuous Zoom
High Operating Temperature Technology
Fast aperture F/3 optics
Very long range performance (MBT Detection @ 45km)
Optional DLC coated tilted window for naval/marine applications
Focal Length: 37mm (WFOV), 500 mm (NFOV)
F/Number: F/3
Spectral Band: 3 µm - 5 µm
Resolution: 1280 x 720
Pixel pitch: 10 µm
Dimensions: 211 mm x 211mm x 425 mm (inc. optional window)
Weight: <7 kg
Shock / Vibration: MIL-STD-810G
Focal Length: 37mm (WFOV), 500 mm (NFOV)
F/Number: F/3
Spectral Band: 3 µm - 5 µm
Resolution: 1280 x 720
Pixel pitch: 10 µm
Dimensions: 211 mm x 211mm x 425 mm (inc. optional window)
Weight: <7 kg
Shock / Vibration: MIL-STD-810G