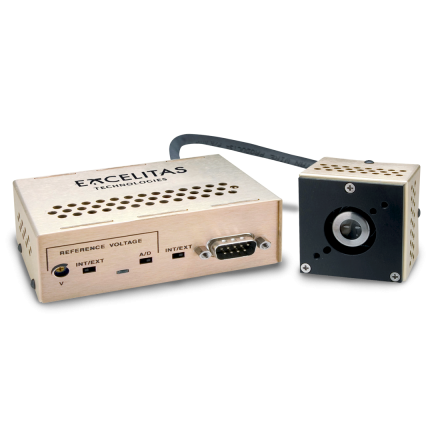 PAX-10M 10W Precision-Aligned Pulsed Xenon Light Sources
The Excelitas PAX-10M™ is a Precision-Aligned Pulsed Xenon Light Source offering 10 Watts of power in a compact, modular design with a remote flash head allowing for easier integration in space-limited applications. The PAX-10M Family is the ideal pulsed Xenon light source for clinical diagnostics, in vitro diagnostics, life sciences, drug discovery, proteomics, and analytical instrumentation applications.
The PAX-10M features a pre-aligned arc position precisely located relative to a datum feature on the mounting surface of the case. This pre-aligned arc position allows for "plug-and-play" field replacement, eliminating alignment time and reducing OEMs' costs and machine down time.
The PAX-10M utilizes Excelitas' proven pulsed Xenon flashlamp technology, delivering high radiant intensity over a continuous spectrum from the ultraviolet to the infrared. It provides a long life rating over a billion flashes and is available with user-selectable analog or digital intensity control.
Modular configuration
Long Lifetime
Flexible mounting
CE marked
Arc lengths (mm): 1.5, 3.0
Modular configuration
Long Lifetime
Flexible mounting
CE marked
Arc lengths (mm): 1.5, 3.0