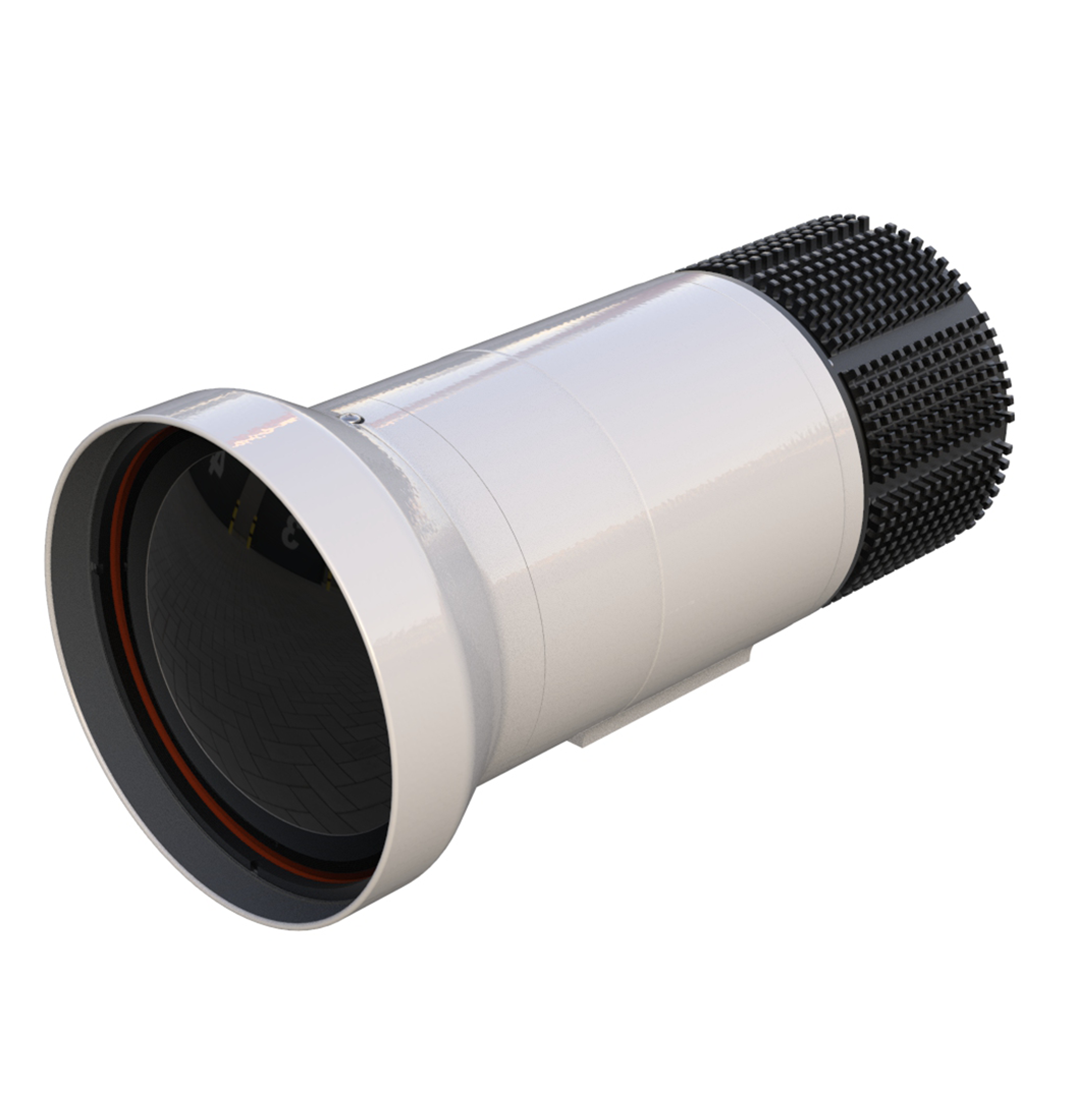 RaptIR High-Definition MWIR Camera
RaptIR is a High-Definition (HD) Mid-Wave-Infrared (MWIR) Thermal Imaging Camera utilizing state-of-the-art small pixel pitch technology. The camera combines a ruggedized x14 continuous zoom capability with the very latest 8µm High Operating Temperature (HOT) detector to provide exceptional image clarity and range performance. RaptIR delivers long-range surveillance and target identification in a low SWaP package including long life linear cooler and low noise operation. 
Featuring the latest small pixel pitch technology combined with High Definition format (SXGA) offers the user with impressive image clarity and scene information. It allows earlier target discrimination to provide more time for making decisions and undertaking any appropriate counter activities. The x14 continuous zoom capability affords the user full eyes on tracking of the target from wide to narrow field of view.
RaptIR utilizes a linear cooler which offers longer life (MTBF) performance which can reduce through-life costs for system down time. The linear cooler is also audibly quieter than rotary alternatives, making the camera suitable for both overt or covert applications.  
With low Size, Weight and Power (SWaP) characteristics, compared to similar performing cameras, RaptIR offers integrators and end users advantages of using smaller, lighter weight, lower power directors. This can provide significant operational advantages such as longer operating life, man deployability or installation on smaller platforms.
Key Features
High Definition 1280 x 1024, 8µm resolution
x14 Continuous Zoom
Low audibility Linear Cooler
HOT Detector Technology
Fast aperture F/3
Exceptional Range Performance (NATO MBT Detection 41 km)
Compact size (390 mm x 164 mm x 164 mm)
Low mass (< 5 kg)
Focal Length: 30 mm (WFOV), 410 mm (NFOV)
F/Number: F/3
Spectral Band: 3 µm - 5 µm
Resolution: 1280 x 1024
Pixel pitch: 8 µm
Dimensions: 164 mm dia. x 375 mm
Weight: <5 kg
Shock / Vibration: MIL-STD-810G
Focal Length: 30 mm (WFOV), 410 mm (NFOV)
F/Number: F/3
Spectral Band: 3 µm - 5 µm
Resolution: 1280 x 1024
Pixel pitch: 8 µm
Dimensions: 164 mm dia. x 375 mm
Weight: <5 kg
Shock / Vibration: MIL-STD-810G