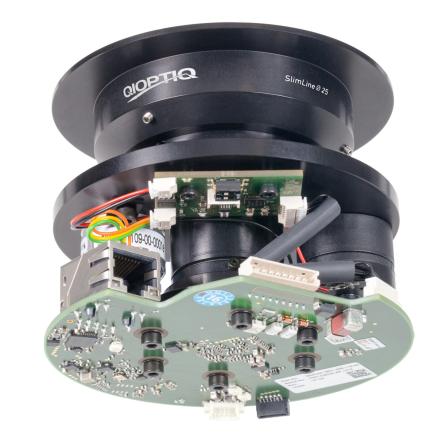 PART/
SlimLine 1k x 1k CMOS X-Ray Camera & Lens System
The Qioptiq SlimLine X-Ray Camera/Lens System is the First ever 1K x 1K CMOS-based Camera System designed to deliver superior diagnostic imaging performance and economy. Compatible with all 9" and 12" image intensifiers, SlimLine streamlines OEM integration in mobile C-arm devices. This modular system combines high-resolution (f/1:1.8) optics with 1K2 CMOS camera, a universal interface and a manual or motorized iris. Special functions include auto gain, gamma correction, frame on-demand and more.
Our SlimLine X-Ray System is a complete lens and camera solution designed and optimized for OEM integration in X-ray diagnostic systems. The system consists of our SlimLine lens assembly and the QioCam X-ray camera.
SlimLine Lens Assembly
The SlimLine lens is a high-resolution module that combines high-performance optics, mechanics and electronics. The multi-functional mount allows easy adaption to all image intensifiers.
High-speed lens minimizes X-ray dose
Compensation of image intensifier vignetting
High MTF (modulation transfer function) from image center to edge
Applicable for 20mm and 25mm phosphor Ø of image intensifier
Universal interface couples with all 9" and 12" image intensifiers
Available with motorized iris (GigE and SPI)
or manual iris with self-locking effect
QioCam CMOS X-Ray Camera
The QioCam X-Ray Camera delivers the high resolution and sensitivity inherent of CMOS technology.
CMOS with global shutter
1 Megapixel resolution
Dynamic range sensor 72dB
Dynamic range QioCam 160dB (with gain and iris)
Saturation capacity 29.000e-
GigE Vision interface
Power consumption 5W/12V
Frame rate 30 fps
Adjustable measuring window
12-bit digital signal processing
Frame on-demand, hard- or software-triggered and free-running mode
Adjustable Gamma correction, compensates non-linearity of image intensifiers
Automatic gain and balance control (AEC + AGC)
XR high/low function
View our informational video for more.
Object size (mm): Ø 20, Ø 25
Image Intensifier: 9" and 12", all brands
Image size (mm): Ø 6 (i.e. Sony IMX 249)
Resolution: 1024 x 1024 pixel (1k2)
Distortion: Lens compensates Image intensifier distortion (barrel nom. -8%)
Camera interface: C-mount
Magnification: Continuous adjustable
Focusing: By adjustment kit with shims
Aperture: sin u' = -0.277
Lens dimensions (mm): Ø 93 max / mechanics length 56 / distance object to image 83
Object size (mm): Ø 20, Ø 25
Image Intensifier: 9" and 12", all brands
Image size (mm): Ø 6 (i.e. Sony IMX 249)
Resolution: 1024 x 1024 pixel (1k2)
Distortion: Lens compensates Image intensifier distortion (barrel nom. -8%)
Camera interface: C-mount
Magnification: Continuous adjustable
Focusing: By adjustment kit with shims
Aperture: sin u' = -0.277
Lens dimensions (mm): Ø 93 max / mechanics length 56 / distance object to image 83