A Day in the Life of ...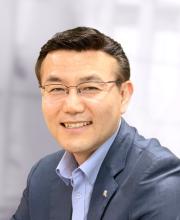 Bright Lee
Senior Business Development Manager
Seongnam-Si, South Korea
What is the first thing you do when you get started with work for the day?
I love my morning coffee. I review the Korea Electric Times Economic News while drinking coffee and check my mailbox and then, review my to-do-list for the day.
What are your main areas of focus in your work as a Senior Business Development Manager?
To achieve my current year's booking and billing target, I am focused on my customers with the top five biggest projects keeping in touch with them every week to ensure successful project launches. And plus, I am focusing on increasing new market application development for long-term growth.
How do you organize or structure your work day with tasks and projects?
Every day, I review my to-do-list and think about which tasks have the biggest impact on my day's performance and organize my work accordingly. Sometimes, it is very challenging to stay focused on my top priorities with many customer visits, calls and emails and it requires some coffee breaks to get back on the right track. It's an art of balance and I enjoy the work and control.
As a Senior Business Development Manager, do you collaborate with a team or mainly work autonomously? Which do you prefer?
I always work with a team on projects and I prefer to work with a team. In order to be successful on projects, every team member including product leader, customer service, manufacturing team and sales need to collaborate with each other.
Which part of your work do you enjoy the most and why?
Excelitas has a dynamic culture and is growing so fast by merging great companies. We have many projects. So, I love my job since I can control and prioritize my projects to achieve my goals. I am in charge of total commercial sales in Korea and sometimes, find it very challenging with the many activities involved with the various types of projects. However, I am able to decide which projects to engage with based on those most suitable for Excelitas and the customer. With great teamwork, we are able to support these projects and make them successful. Also, I am really happy to see that the customers appreciate our solution for resolving their application challenges. Sometimes, there are obstacles to overcome along the way, however, we work together to find a resolution and move forward with the next great project where we can apply new learnings. I always remind myself of my life motto: "Life is always good no matter what happens." I can learn from the success and the failure and I just move forward after learning and I believe that our life is a learning process until we die. Excelitas is the perfect place to learn many things in this regard and I believe that it will proliferate my career.
If you had more hours in the day to focus on new skills related to your job or projects for your work, what would you focus on?
I would like to gain more knowledge in resolving field application issues. Customers would like to resolve field application issues immediately and if I possess more knowledge and experience resolving field application issues, I can more quickly help my customers or guide them to a fast resolution.
What is your special skill, magic power or hobby you are proud of?
I love to play badminton. The sport is very dynamic and requires fast movements with specific hitting skills and strong teamwork as well. My wife and I started playing badminton from April 2014. I normally improve my badminton skills by training with a professional coach two times per week. When I started the sport with my wife, my level of play was at grade E. And since I love the sport and trained for it, I was able to win tournaments every year and currently, I play in an A level group since last year. My wife and I still enjoy the sport together and we are an excellent team for mixed doubles and by enjoying the same topics and hobby, our relationship is getting much stronger than before.