A Day in the Life of ...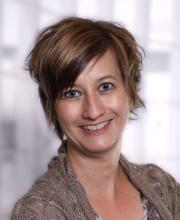 Corina Dömel
Customer Service Manager Europe
Wiesbaden, Germany
What is the first thing you do when you get started with work for the day?
I especially like working days that don't begin with a meeting or conference call. I can then start the day with a short office tour. I welcome my team members (occasionally spoiling them with a breakfast snack :) and briefly talk about important topics. I like to take the opportunity to listen to the small or big concerns that move my staff - successes and worries. This can be a report of a sons football match or a difficult situation someone is facing on a project. Being close to my team, as well as good cooperation based on mutual trust is important to me. After my tour, I enjoy my first cup of coffee, read my emails and newsletters, and go through the agenda for the day.
What are your main areas of focus in your work as a European Customer Service Manager?
Customer Service does not only service our external customers, but it also provides many services to our internal customers such as Sales, Product Management, Production, Planning, Finance, Quality, Shipping, Customs, ITC and Legal. I would say that Customer Service is one of the departments having the largest number of internal contact points. This is what makes my job so interesting and diverse. My main area of focus is to provide and maintain excellent service to all customers ‒ external and internal. This includes efficiency, harmonization and lean management of teams and processes. To me, it is therefore important to understand the needs and concerns of all of our customers. I believe this is the only way to achieve good results for both sides. During my career of 22 years with Excelitas, I have got to know many departments and gained valuable experience, for which I am very grateful. Actually, I started out as a lab assistant in our Engineering department during my semester break. Later on, I worked for QA, Marketing and Sales before I moved to Customer Service. This background provides me with comprehensive knowledge about processes, products and values of our company.
How do you organize or structure your workday with tasks and projects?
The structure is based on a combination of regular meetings, such as team or management meetings, project meetings or one-on-one interviews, as well as regular tasks, such as weekly reports or data reviews and ad hoc topics that come in from the team or customers. Therefore, sometimes my carefully elaborated to-do-list goes overboard and is replaced by urgent topics that need to be addressed. Finally, it is essential to stay flexible and adapt quickly to new topics and new requirements.
As a European Customer Service Manager, do you collaborate with a team or mainly work autonomously? Which do you prefer?
Its a mixture of both and I like this particular mix. I work with teams in Germany, as well as across Europe and on a global level – occasionally at different sites. Various cultures and views are coming together, but as a team, we all focus on the overall goal of − the project. This generates a lot of positive energy, another fact that makes my job so exciting. For some tasks, especially projects, the motto is Together we are strong! Many creative minds find optimal solutions in these projects. In addition to teamwork, it is also important to work individually and independently. This is often the case with strategic and organizational tasks, but also in smaller tasks such as daily reporting.
Which part of your work do you enjoy the most and why?
I love working with people. We are all so different and diverse - everyone has their own strengths. By using these individual strengths, we can build a strong team and create wonderful things together. The many different interfaces to my department also gives me the opportunity to develop a complex perspective and learn from others. Excelitas has offered me a lot of variety and opportunities to continuously develop myself and build on my strengths. In addition to working in different departments, Excelitas has always supported the development of my career. For example, I was able to complete a degree in business management and an apprenticeship as a holistic coach. To me, the development of employees, teams and processes are very exciting.
If you had more hours in the day to focus on new skills related to your job or projects for your work, what would you focus on?
I would focus more on team development, build cross-location teams to support each other, generate a better understanding of each other and consequently, create more efficient cross-team collaboration. For this purpose, I could make use of my training as a coach and resilience trainer in my daily routine through networking and bridge-building − two of my favourite subjects which fit perfectly here.
What is your special skill, magic power or hobby you are proud of?
Not only in my job do I like to deal with people, but also in my private life. I feel best when all my loved ones (family and friends) are around me. As I live for baking and cooking, I can spoil them with culinary delicacies. I also like to move with music - I love dancing and as a Zumba, Dance or Bokwa Instructor, I also bring people together. The magic power for me is the balance of (between) discrepancies. Work-life balance is the keyword match here. I like to build bridges between apparent contradictions, such as business and wellness, efficiency and relaxation, perfection and laissez-faîre - the individual (employee) combined with the big picture (company) − that's my magic power. This is the magic power for me, for my employees, for my customers and of course, also for Excelitas.