A Day in the Life of ...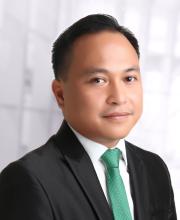 Julius Cemine
New Product Program Manager
Manila, Philippines
What is the first thing you do when you get started with work for the day?
I check my mailbox, organize the emails by subject and read through the email trail. Arranging emails by subject saves time and enhances focus on the contents being discussed.
What are your main areas of focus in your work as a New Product Program Manager?
I am the interface between the Customer or Excelitas Sales, Customer Service Representatives and our Research Development and Manufacturing site. I confirm the customer's technical requirements and project timeline and relay this to the Design Development and Operations teams. Also, I provide answers to the customer's technical and manufacturability questions.
How do you organize or structure your workday with tasks and projects?
Mornings are allocated mostly on the tasks related to the emails received the previous night (I see to it that there are no email backlogs!). The afternoon is mostly focused on meetings with the Design Development and the Operations teams and Teleconferences with customers/stakeholders abroad.
As a New Product Program Manager, do you collaborate with a team or mainly work autonomously? Which do you prefer?
I collaborate with the Design and Development team as well as the Operations team most of the time. Same collaborative work happens with the customers and colleagues abroad.
Which part of your work do you enjoy the most and why?
Travelling to visit customers is what I enjoy the most. Meeting people from other countries and collaborating to get their requirements done is what's fulfilling for me.
If you had more hours in the day to focus on new skills related to your job or projects for your work, what would you focus on?
I love to learn more on business management.
What is your special skill, magic power or hobby you are proud of?
I can play the guitar and sing. I am part of a choir that sings during the Holy Mass every first Friday of the month here at Excelitas in Manila.