A Day in the Life of ...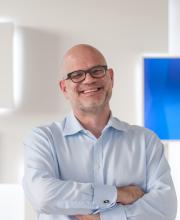 Lutz Rauscher
Team Leader, Engineering
Wiesbaden, Germany
What is the first thing you do when you get started with work for the day?  
Well, of course checking emails - after grabbing a coffee that is. As we are working with engineering teams, suppliers, and customers around the globe, there is always some news to catch up on. It can be quite efficient too –  the teams in Asia are almost a full workday ahead of us so no matter how late I send the request in the evening, I am likely to have an answer the next morning. I am actually looking forward to seeing what happened since the previous day. 
Very likely, there will be a conference call, too. Working with partners and teams remotely makes good communication essential.  
What are your main areas of focus in your work as a Team Leader Engineering? 
Much of it is project management: following up on tasks, keeping an eye on timelines and targets as the project progresses, working with the team on solutions, and making sure everyone is aligned.  
What I particularly like about my role at Excelitas is that I have a chance to be involved in all stages of product development; from project acquisition with customers to concept development to working with production on quality and efficiency.  
There is also a chance for some hands-on time in the lab, e.g. for testing prototypes.  
How do you organize/structure your work day with tasks/projects?   
Regular calls and team meetings allow us to make sure everything is proceeding as planned and tasks are tracked.  
However, I am also a big fan of a more agile approach to development with small steps, regular feedback from stakeholders, and quick adjustments where needed. Of course, not all project phases allow quick changes, but where possible, it helps to make better products.  
As a Team Leader, do you collaborate with a team or mainly work autonomously? Which do you prefer?  
Well, I guess it is in the job title – you need everyone to contribute with his or her individual skills and talents. It is not always easy to keep everybody on board, but it is  necessary. There are many steps and people necessary to make our products.  
That does not mean I do not enjoy working some things out myself but having a team I can rely on allows me to do so.  
Which part of your work do you enjoy the most, and why? 
The initial project phase where concepts are developed and new technologies are explored is  probably the most exciting, but it is also very rewarding to see a product delivered to the customer. 
I guess, it really is the variety in tasks and project phases that I appreciate.  
If you had more hours in the day to focus on new skills related to your job or projects for your work, what would you focus on?  
There is always a new skill to learn and a tool or technique to explore. It is quite important to make time to try a few new things out which helps us grow and develop. 
What is your special skill/ magic power/ hobby you're proud of?  
Probably, creativity and a curiosity to try new things. It helps to develop better products.  
Also, I really enjoy traveling and exploring foreign cultures, which of course makes it exciting and fun to work with international teams from so many different countries.  
Photography is therefore a perfect hobby of mine as it combines both of these things.