A Day in the Life of ...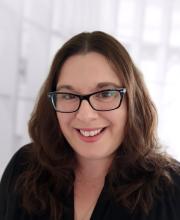 Tiffany Kite MAPM
Program Manager – Advanced Optronics
St Asaph, UK
What is the first thing you do when you get started with work for the day?
I like arriving to work a little early to allow me the time to go through my email and diary at my own pace before getting started with the day. As a program manager, my days are usually very busy with various tasks and appointments. My role requires me to attend various meetings that are both program-specific and more general company business, so sorting myself out first thing allows me to hit the ground running when it is time to officially start work for the day.
What are your main areas of focus in your work as a Program Manager?
As a Program Manager, I am primarily responsible for managing the introduction of new products and technology through the development phase from initial concept through to the handover to the business as a usual function. This means that I work very closely with the engineers and operations teams to ensure that my programs are delivered at cost, within the timescale and to the agreed specification. A key focus of my role is planning and organizing that allows me to pace and direct the workflow for the various functions. I have to ensure that all project team members have everything they need to complete the task at hand in the agreed timescale. In addition to the tangible deliverables of a project, I am also responsible for coordinating the 'softer' program deliverables. These include contractual documents such as the project management plan, quality plan and technical data packages, as well as company,  mandated documents such as the risk register, cost profile and schedule. Whilst my responsibilities as program manager involves a great deal of internal communication, I also manage the customer interface. A big part of my role is to act like the customer's representative within the company so I have to make sure that I act in both the customer's best interest while protecting the position of the company.
How do you organize or structure your workday with tasks and projects?
I am a bit old fashioned and like to get things down on paper and rely heavily on to-do lists! I think it is fair to say that as a program manager no two days are the same. The challenges and obstacles faced each day are different, and the audiences that I communicate with may change from one hour to the next. My days can be very busy, so it is important that I have a system in place that allows me to keep on top of tasks, as I never know when I may run into something during the day that can pull me in another direction from what I had originally planned. Where possible, I will try to review my working day as the last thing before I go home. This helps me evaluate what I accomplished for that day as well as setting a list of tasks for the following day in order of their priority. That way if something comes through my email overnight, I can make a quick judgement on where it sits in terms of importance with respect to my other tasks. Also, organizing my workload in this way allows me to switch off when I leave the office and not take any of the little stresses and frustrations home with me.
As a Program Manager, do you collaborate with a team or mainly work autonomously? Which do you prefer?
Teamwork is a significant part of my role. Working within a matrix organization structure, drawing on the skills and expertise of in-house experts is vital to achieving our objectives. So, building good working relationships with people at all levels is very important and lends itself to getting things done. I would say that 80% of my work is teamwork with a few necessary and more bureaucratic tasks, for example, program reporting documentation that requires me to work autonomously.
Which part of your work do you enjoy the most and why?
I enjoy the people I work with and get to learn something new every day! It still really excites and impresses me when I get to see the new products and the latest technological capabilities being developed. The one thing that really stood out to me when I joined the company was the level of pride that people take in their work and how willing they are to take the time to really explain what they are doing and why.
If you had more hours in the day to focus on new skills related to your job or projects for your work, what would you focus on?
I am keen to develop in my role and one day hopes to become a chartered project manager. I am always looking to develop myself so I like to keep up to date with what is happening in the project management world. My Association of Project Management membership includes a quarterly journal that I look forward to reading.
What is your special skill, magic power or hobby you are proud of?
I have a young family at home, so between that and work, I don't get as much time as I used to for hobbies; but when I do get a few spare moments, I relax by doing crafts - mainly crochet, sewing and making wooden ornaments. Before my life as a program manager, I used to have a shop on Etsy (a handmade marketplace) where I would design and make my own amigurumi. This is a Japanese style of crochet that literally translates as 'small knitted doll'. I still enjoy doing this today, but only for friends and family.