Excelitas Technologies Introduces Next-Generation Axsun Azmyth Swept-Source OCT (SS-OCT) Imaging Platform
Enhanced Capabilities Support High-Speed Tunable VCSEL in a Compact Form Factor for Custom Integration Across a Range of Medical and Industrial OCT Applications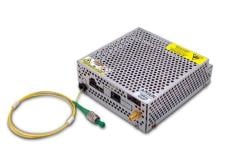 Excelitas Technologies® Corp., a leading industrial technology manufacturer focused on delivering innovative, market-driven photonic solutions, announces its Axsun Azmyth™ next-generation SS-OCT imaging platform. Featuring a new VCSEL laser module and high-speed driver electronics, Azmyth supports A-scan rates up to
800 kHz. Axsun tunable lasers empower thousands of state-of-the-art OCT systems deployed worldwide in applications ranging from medical diagnostics to industrial inspection.
By integrating data acquisition (DAQ) electronics and an array of customizable peripheral components, Axsun Integrated Imaging Engines enable customers to build compact, high-performance, and cost-competitive SS-OCT imaging systems while achieving short time-to-market and an opportunity to scale rapidly. Features and benefits of the new Azmyth platform include:
2x-4x faster A-scan rate
50% smaller footprint
Enhanced configurability
Turnkey solutions available
High reliability based on proven Axsun core technologies

"SS-OCT system developers, manufacturers, researchers and entrepreneurs rely on Excelitas' Axsun products for impressive performance and demonstrated reliability, so we are constantly building on our existing OCT expertise and leading-edge swept laser technology," said Bill Ahern, Senior Director, Product Marketing at Excelitas. "Azmyth is the natural evolution of our laser platform. Providing the fastest speed in the smallest footprint, it facilitates shorter imaging times, increased imaging density, and multi-modal systems that perform retinal, anterior segment, and whole-eye imaging. It will lead the way toward higher adoption of SS-OCT in many imaging applications."
Excelitas' portfolio of patented Axsun technology covers a wide range of active and passive micro-optical components, tunable MEMs devices, advanced materials and optical coatings, optomechanical and optoelectronic integration capabilities, precision manufacturing processes, and packaging solutions for OEM and end-user systems. For additional information, please visit Excelitas at Laser World of Photonics in Munich, Booth# 103, Hall 6 from April 26 – 29, 2022 or https://www.excelitas.com/product/high-speed-ss-oct-tunable-laser-engines.
# # # 
About Excelitas Technologies 
Excelitas Technologies® Corp. is a leading industrial technology manufacturer focused on delivering innovative, market-driven photonic solutions to meet the illumination, optical, optronic, sensing, detection and imaging needs of our OEM and end-user customers. Serving a vast array of applications across biomedical, scientific, semiconductor, industrial manufacturing, safety, security, consumer products, defense and aerospace sectors, Excelitas stands committed to enabling our customers' success in their many various end-markets. Our team consists of more than 7,500 professionals working across North America, Europe and Asia, to serve customers worldwide. 
Connect with Excelitas on Facebook, LinkedIn, Twitter and Instagram.
Excelitas® and Excelitas Technologies® are registered trademarks and Azmyth™ is a trademark of Excelitas Technologies Corp. All other products and services are either trademarks or registered trademarks of their respective owners.
 
Contacts:
Scott Orr 
Senior Director of Global Marketing - Commercial 
[email protected]   
+1 (781) 996-5925 
Cheryl Reynhout or Jill Anderson 
On Behalf of Excelitas Technologies Corp. 
SVM Public Relations 
[email protected] 
+1 (401) 490-9700 
Download a PDF of this press release.