Excelitas Technologies Unveils New LINOS F-Theta-Ronar Lenses
F-Theta-Ronar 440nm-460nm, 515nm-540nm and 1030 nm -1080nm Lenses Enable More Efficient Machining Processes for Metalworking and Additive Manufacturing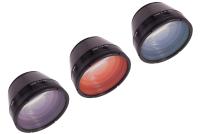 Excelitas Technologies® Corp., a leading industrial technology manufacturer focused on delivering innovative, market-driven photonic solutions, adds three new LINOS® F-Theta-Ronar lenses to its product line: the F-Theta-Ronar for 440nm-460nm, 515nm-540nm and 1030nm-1080nm. The lens offerings are specifically designed for metalworking and additive manufacturing applications in battery production, automotive and renewable energy industries.
The newest LINOS F-Theta lenses feature low spot variation, angle-optimized coating and homogeneous power density distribution with constant transmission of the laser spot over the scan field. They accommodate a very large working distance up to 350mm with focal lengths of 262mm/ 265mm/ 270mm and are the first Excelitas lenses that can be operated with an entrance aperture of up to 30mm as standard. The 262mm, 265mm and 270mm F-Theta-Ronar lenses allow machining processes to be operated more efficiently with increased machining speed or reduced laser power, saving customers' costs.
In addition, the F-Theta-Ronar 440nm-460nm, 515nm-540nm and 1030nm-1080nm lenses feature:
Complete fused-silica and low absorption design offering long-term optical stability with less thermal focus shift for more stable machining processes
High laser-damage threshold (LIDT) coating
Broadband for a wide wavelength range
Dust-tight on the output side incl. protective glass according to the criteria of IP6X DIN EN 60529
Scanning areas up to 154x154mm²
Screw thread M85x1 & M110x1
Optimized for entrance beam diameter 20mm/30mm, 14mm/20mm and 14mm/20mm/30mm
Transmission over scan field ≥ 96%
Optimized back reflection positions for common scan heads

"These new F-Theta-Ronar lenses round off Excelitas' portfolio with a large entrance aperture in the direction of a smaller focal length, suitable for customers needing lenses with smaller spot size," said Matthias Koppitz, Application Engineer at Excelitas. "We never stop innovating and pushing the limits of our technology, adding new products to deliver the specific, high-precision optics needed for customers' increasingly demanding applications. Continuous expansion of our LINOS F-Theta-Ronar product family is an important part of our commitment to meeting customers' needs as their products and processes evolve."
The new F-Theta-Ronar lenses will be featured at Laser World of Photonics in Munich, Germany, April 26-29, 2022 (Excelitas Booth # 103, Hall 6). For more information about the new LINOS F-Theta-Ronar lenses, please visit: https://bit.ly/3uFH3Ht.  
# # #
About Excelitas Technologies 
Excelitas Technologies® Corp. is a leading industrial technology manufacturer focused on delivering innovative, market-driven photonic solutions to meet the illumination, optical, optronic, sensing, detection and imaging needs of our OEM and end-user customers. Serving a vast array of applications across biomedical, scientific, semiconductor, industrial manufacturing, safety, security, consumer products, defense and aerospace sectors, Excelitas stands committed to enabling our customers' success in their many various end-markets. Our team consists of more than 7,500 professionals working across North America, Europe and Asia, to serve customers worldwide.  
Connect with Excelitas on Facebook, LinkedIn, Twitter and Instagram.
Excelitas®, Excelitas Technologies® and LINOS® are registered trademarks of Excelitas Technologies Corp. All other products and services are either trademarks or registered trademarks of their respective owners. 
Contacts:
Scott Orr 
Senior Director of Global Marketing - Commercial 
[email protected]  
+1 (781) 996-5925 
Cheryl Reynhout or Jill Anderson
On Behalf of Excelitas Technologies Corp.
SVM Public Relations
[email protected]
+1 (401) 490-9700
Download a PDF of this press release.