IR Light Emitting Diodes
Infrared Emitting Diodes (IREDs) are solid state light sources emitting in the near infrared part of the spectrum. The emission wavelength is closely matched to the response peak of silicon photodiodes and phototransistors. This product line provides a broad range of lens and power output options. Both top and side radiating cases are available as well as a wide range of emission beam profiles. These IREDs may be operated in either CW or pulsed operating modes.
IREDs with wavelengths 770 nm, 870 nm 880 nm, 940 nm, and 950 nm are offered for applications like smoke detection, encoders, transmissive and reflective optoswitches.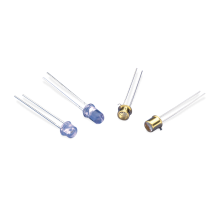 880nm Infrared Emitting Diodes
This Series of Infrared Emitting Diodes (IREDs) consists of three standard chips in nine different packages, providing a broad range of mounting, lens, and power output options. This series includes both end and side radiating cases, as well as narrow and wide angle emitters. All IREDs use high...
Read More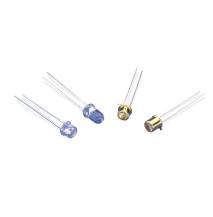 940nm Infrared Emitting Diodes
The 940 nm Series of Infrared Emitting Diodes (IREDs) consists of two standard chips in three different packages. All devices use high efficiency GaAs liquid phase epitaxial chips mounted P side down for highest output at 940 nm. TO-46 devices are double bonded for increased reliability in pulse...
Read More