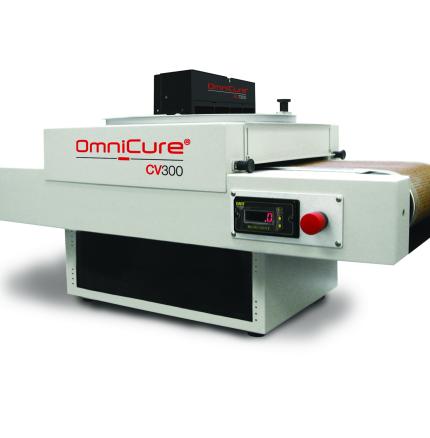 PART/ CV300
OmniCure CV300 Low-Volume Production Conveyor
The OmniCure® CV300 is a versatile conveyor system designed to complement the OmniCure AC Series of high power LED UV curing systems and is suitable for production, laboratory and research and development applications. The CV300 can handle substrates up to 310 mm (12.2") wide on its open mesh Teflon® coated fiberglass belt with an effective curing area of up to 300 mm (12") depending on the OmniCure LED system being utilized.
The unique mounting design of the OmniCure CV300 conveyor allows for multiple configurations of the OmniCure AC Series high power UV LED curing systems. The length of the LED systems can be positioned perpendicular to the conveyor belt's direction of travel or in 15 degree steps towards a parallel orientation.
The conveyor belt speed can be set from 1 m/min (3 ft/min) up to 14.5 m/min (48 ft/min) in 0.3 m/min (1ft/min) increments. The OmniCure CV300 features a digital readout to conveniently set the appropriate speed. Safety features include light guards, an e-stop and an interlock connection for turning off the LED head when the belt is stopped.
OmniCure CV300

Overall Dimensions (LxWxH)

1070 mm (42.2") x 540 mm (21.2") x 440 mm (17.3")

Belt Width

305 mm (12") open mesh Teflon® coated fiberglass

Clearance

385 mm

Belt Speed

1 m/min to 14.5 m/min (3 ft/min to 48 ft/min)

Height Adjustment

30 mm to 60 mm in 10 mm increments

Head Angle Adjustment

0 to 90 degrees relative to belt travel direction in 15-degree increments

Weight

34 kg (74 lbs)

Electrical

100-240 V AC, 50/60 Hz, single phase

Controls

Power on, Speed adjust, LED on
12' Wide belt: Adaptability to multiple applications
Adjustable speeds from 1 m/min to 14.5 m/min (3 ft/min to 48 ft/min) increments: Flexibility in setting specific speeds for each application
Adjustable height from 30 mm and 60 mm in 10 mm increments: Suitable for use with large parts or longer working distances
Rotating mounting system can align LED heads perpendicular to belt's direction of travel: Extendable in width for curing of larger parts
Rotating mounting system can align LED heads parallel to belt's direction of travel: Maximum dose for curing smaller parts at faster speeds
OmniCure CV300

Overall Dimensions (LxWxH)

1070 mm (42.2") x 540 mm (21.2") x 440 mm (17.3")

Belt Width

305 mm (12") open mesh Teflon® coated fiberglass

Clearance

385 mm

Belt Speed

1 m/min to 14.5 m/min (3 ft/min to 48 ft/min)

Height Adjustment

30 mm to 60 mm in 10 mm increments

Head Angle Adjustment

0 to 90 degrees relative to belt travel direction in 15-degree increments

Weight

34 kg (74 lbs)

Electrical

100-240 V AC, 50/60 Hz, single phase

Controls

Power on, Speed adjust, LED on
12' Wide belt: Adaptability to multiple applications
Adjustable speeds from 1 m/min to 14.5 m/min (3 ft/min to 48 ft/min) increments: Flexibility in setting specific speeds for each application
Adjustable height from 30 mm and 60 mm in 10 mm increments: Suitable for use with large parts or longer working distances
Rotating mounting system can align LED heads perpendicular to belt's direction of travel: Extendable in width for curing of larger parts
Rotating mounting system can align LED heads parallel to belt's direction of travel: Maximum dose for curing smaller parts at faster speeds