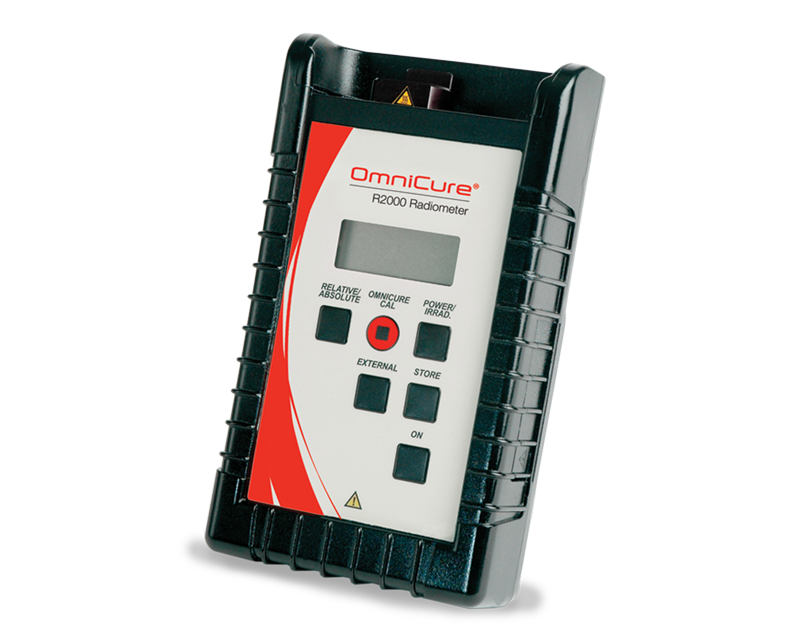 PART/ R2000
OmniCure R2000 UV Radiometer
Radiometry is an essential technique for measuring light output from a UV curing system in order to maintain a repeatable process. The OmniCure® R2000 UV Radiometer can be combined with the OmniCure S2000 Spot UV Curing System to provide a complete curing station with unmatched control and repeatability. Special electronics built into the R2000 also allow for the connection of custom sensors that measure light energy directly at the cure site or within cure ring bonding fixtures.
The OmniCure R2000 is ready to use with additional custom sensors such as the OmniCure UV Cure Ring and OmniCure UV Cure Site Radiometer: Adaptable with optical accessories providing radiometry directly at the cure site
OmniCure UV Cure Ring Radiometer complements an OmniCure Cure Ring fixture to provide the most accurate form of process control for precision manufacturing. By enabling the output power from the Cure Ring to be measured directly at the cure site, the UV Cure Ring Radiometer ensures an accurate and repeatable bonding process.
OmniCure UV Cure Site Radiometer provides ultimate process control by measuring the output power of a light guide or optical accessory directly at the bonding site. The UV Cure Site Radiometer will show exactly the amount of irradiance at the substrate or joint, allowing users to control their curing process more accurately.
R2000

Wavelength Range

250 nm - 1 µm (with suitable calibration)

Maximum Range

Power: 1 mW - 12 W Irradiance: 5 mW/cm2 - 60 W/cm2 (with 5 mm Light Guide)

Resolution

Power: 1 mW Irradiance: 5 mW/cm2 (with 5 mm Light Guide)

Accuracy

+/- 5% typical; +/- 10% maximum

Auto-ranging

Power: 1-990 mW; 1.0-12.00 W Irradiance: 5-990 mW/cm2; 1.0-60 W/cm2

Battery

3.6 V Li

Battery Life

2 years, typical (intermittent use)

Functions

Irradiance Measurement, Power Measurement, Automatic Light Guide Detection, Relative Mode, OmniCure Calibration, Store Data Points, External Input, On Button, Auto Off, Calibration Due Message

Certification

CE marked; complies with IEC, Canadian and US Standards, RoHS compliant

Dimensions (L x W x H)

7 1/2" x 4 3/8" x 2" (19.0 cm x 11.1 cm x 5.0 cm)

Weight

1 lb (450 g)

Warranty

1 year
UV Cure Ring Radiometer

Spectral Range

300-600 nm

Calibration Range

320-500 nm

Dynamic Range

83 mW to 2.5 W

Accuracy

+/-5% Typical 10% Maximum

Resolution

10 mW

Functions

Auto-Power OFF, Hold, Irradiance and Control Panel Software Supported by OmniCure R2000

Certification

CE marked, RoHS Compliant
UV Cure Site Radiometer

Spectral Range

300-600 nm

Calibration Range

320-500 nm

Dynamic Range

0.25 W/cm² to 8.5 W/cm²

Accuracy

+/-5% Typical 10% Maximum

Resolution

10 m W/cm²

Functions

Auto-Power OFF, Hold, Irradiance and Control Panel Software Supported by OmniCure R2000

Certification

CE marked, RoHS Compliant
Serial communication with the OmniCure S2000: Set irradiance levels and calibrate the system from a single reference point; ideal in large scale manufacturing environments
Proprietary detector system for accurate wide-band measurements: Suitable for use with many different systems
Light Guide detector and color coded adapters: Automatically identifies light guide diameter
Memory for storing data: Download readings to a PC for accurate process documentation
R2000

Wavelength Range

250 nm - 1 µm (with suitable calibration)

Maximum Range

Power: 1 mW - 12 W Irradiance: 5 mW/cm2 - 60 W/cm2 (with 5 mm Light Guide)

Resolution

Power: 1 mW Irradiance: 5 mW/cm2 (with 5 mm Light Guide)

Accuracy

+/- 5% typical; +/- 10% maximum

Auto-ranging

Power: 1-990 mW; 1.0-12.00 W Irradiance: 5-990 mW/cm2; 1.0-60 W/cm2

Battery

3.6 V Li

Battery Life

2 years, typical (intermittent use)

Functions

Irradiance Measurement, Power Measurement, Automatic Light Guide Detection, Relative Mode, OmniCure Calibration, Store Data Points, External Input, On Button, Auto Off, Calibration Due Message

Certification

CE marked; complies with IEC, Canadian and US Standards, RoHS compliant

Dimensions (L x W x H)

7 1/2" x 4 3/8" x 2" (19.0 cm x 11.1 cm x 5.0 cm)

Weight

1 lb (450 g)

Warranty

1 year
UV Cure Ring Radiometer

Spectral Range

300-600 nm

Calibration Range

320-500 nm

Dynamic Range

83 mW to 2.5 W

Accuracy

+/-5% Typical 10% Maximum

Resolution

10 mW

Functions

Auto-Power OFF, Hold, Irradiance and Control Panel Software Supported by OmniCure R2000

Certification

CE marked, RoHS Compliant
UV Cure Site Radiometer

Spectral Range

300-600 nm

Calibration Range

320-500 nm

Dynamic Range

0.25 W/cm² to 8.5 W/cm²

Accuracy

+/-5% Typical 10% Maximum

Resolution

10 m W/cm²

Functions

Auto-Power OFF, Hold, Irradiance and Control Panel Software Supported by OmniCure R2000

Certification

CE marked, RoHS Compliant
Serial communication with the OmniCure S2000: Set irradiance levels and calibrate the system from a single reference point; ideal in large scale manufacturing environments
Proprietary detector system for accurate wide-band measurements: Suitable for use with many different systems
Light Guide detector and color coded adapters: Automatically identifies light guide diameter
Memory for storing data: Download readings to a PC for accurate process documentation