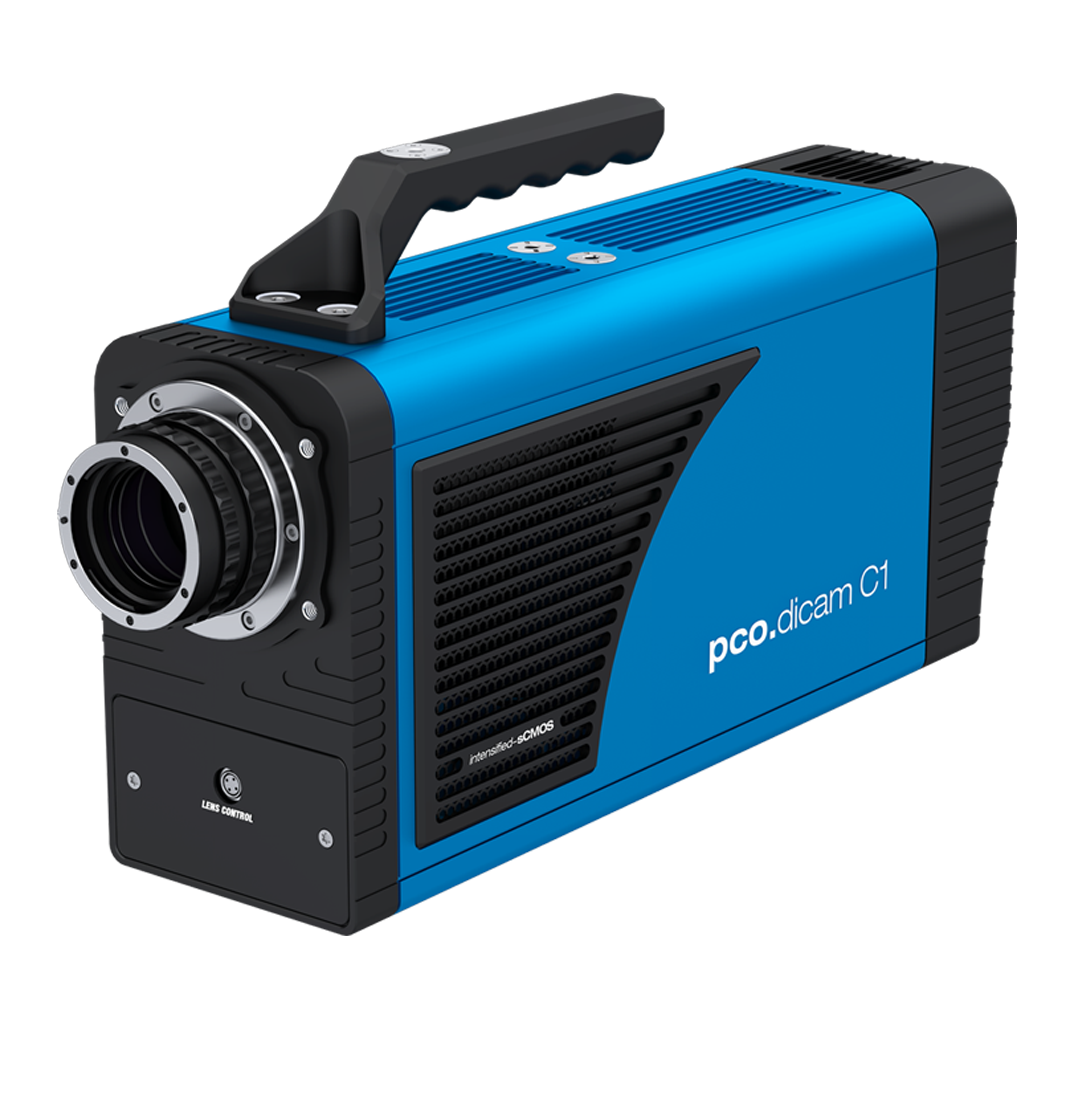 pco.dicam C1 UHS Single-Channel Intensified Camera
The pco.dicam C1 Ultra-High Speed (UHS) is the first camera system to offer 18 mm image intensifier technology designed to harness the full power of the sCMOS sensor. Its unique optical coupling of an ultra-fast 18 mm image intensifier to a 16-bit sCMOS sensor via an efficient tandem lens enables single photon detection using unmatched exposure times down to 2.5 ns with a frame rate up to 143 fps at full 2.3 MPixel resolution.
Our pco.dicam C1 UHS features a 10G fiber optic data interface (Camera Link HS) to guarantee an uncompressed and secure data transfer. The latest standard of high-performance data interfaces makes it easy to bridge long distances even in challenging experimental environments via fiber optic cable.
The pco.dicam C1 UHS is built on proven technology of our established pco.dicam C1 platform. Leveraging more than three decades of developing intensified camera systems combined with our pioneering scientific CMOS expertise, our pco.dicam series offers high-performance in both image quality and optical gating.
Also, try our MachVis Lens Selector tool to help identify the perfect lens solution and PCO camera for your imaging and machine vision requirements.
 

 

 

Variant

 

Ultra high speed

Intensifier diameter

 

18 mm

Photocathode material

 

S20, GaAs, GaAsP

Phosphor screen material

 

P43 or P46

Intensifier

 

Selected

 

Standard

MgF2 glass input window

 

S20

yes

 

yes

GaAs, GaAsP

 

yes

 

Resolution

 

1504 x 1504 pixels

Frame rate at full resolution 

 

143 fps

Exposure time 

S20

Typ. 2.5 ns

GaAs, GaAsP

Typ. 4 ns

Mount

 

F-mount
C-mount*
Canon EF mount*

Final test sheet

 

Included
*Optional 
Laser induced incandescence (LII)
Shock wave physics
Laser induced breakdown spectroscopy (LIBS)
Particle image velocimetry (PIV)
Time resolved spectroscopy
Plasmaphysics
Laser induced fluorescence (LIF) ballistics
Combustion
 

 

 

Variant

 

Ultra high speed

Intensifier diameter

 

18 mm

Photocathode material

 

S20, GaAs, GaAsP

Phosphor screen material

 

P43 or P46

Intensifier

 

Selected

 

Standard

MgF2 glass input window

 

S20

yes

 

yes

GaAs, GaAsP

 

yes

 

Resolution

 

1504 x 1504 pixels

Frame rate at full resolution 

 

143 fps

Exposure time 

S20

Typ. 2.5 ns

GaAs, GaAsP

Typ. 4 ns

Mount

 

F-mount
C-mount*
Canon EF mount*

Final test sheet

 

Included
*Optional 
Laser induced incandescence (LII)
Shock wave physics
Laser induced breakdown spectroscopy (LIBS)
Particle image velocimetry (PIV)
Time resolved spectroscopy
Plasmaphysics
Laser induced fluorescence (LIF) ballistics
Combustion