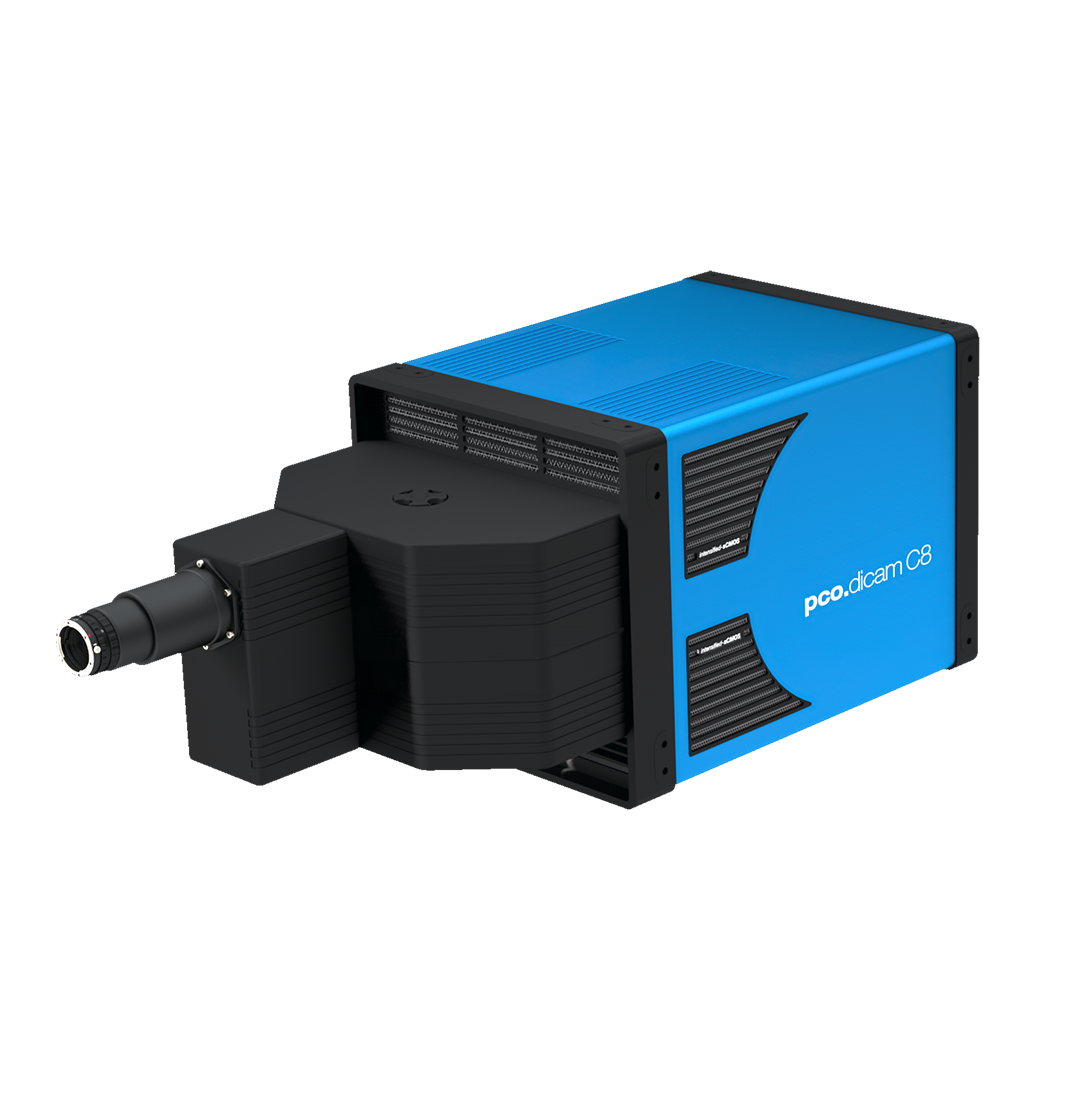 pco.dicam C8 LT Eight-channel intensified Camera
Built on our pco.dicam C8 platform, pco.dicam C8 LT is a budget-friendly alternative to the pco.dicam C8 standard and UHS models most suitable for routine intensified imaging applications. This fully integrated eight-channel intensified sCMOS camera features an advanced optical beam splitter that enables equal distribution of incident light from a single optical input to eight 18 mm high-quality image intensifiers each capable of detecting single photons with 51 ns shortest gating and up to 15 fps at full 2.3 MPixel resolution.
With extremely high burst frame repetition rates, the pco.dicam C8 LT can record sequences of 8 ultra-fast images in 408 ns or 16 images in 960 ns ns while ensuring maximum image quality. Featuring 80G fiber optic data interface (Camera Link HS), the C8 LT guarantees uncompressed and secure data transfer, while ensuring maximum data integrity via its Forward Error Correction algorithms.
Excelitas offers a comprehensive selection of software options for use with PCO cameras to help optimize your application. Visit our PCO Camera Software section to easily access camera control software, software development kits, interface drivers, add-on software, as well as µManager integration software.
Also, try our MachVis Lens Selector tool to help identify the perfect lens solution and PCO camera for your imaging and machine vision requirements.
8-channel intensified sCMOS camera
Etimes down to 51 ns
8 images in 408 ns
16 images in 960 ns
1504 x 1504 pixel
16 bit dynamic range
Optical coupling via ultra-speed tandem lenses
Enhanced extinction ratio gating
18 mm image intensifier
50 ns trigger to exposure start delay
8 x 10G fiber optic data interface (Camera Link HS)
Not subject to export licensing
8-channel intensified sCMOS camera
Etimes down to 51 ns
8 images in 408 ns
16 images in 960 ns
1504 x 1504 pixel
16 bit dynamic range
Optical coupling via ultra-speed tandem lenses
Enhanced extinction ratio gating
18 mm image intensifier
50 ns trigger to exposure start delay
8 x 10G fiber optic data interface (Camera Link HS)
Not subject to export licensing