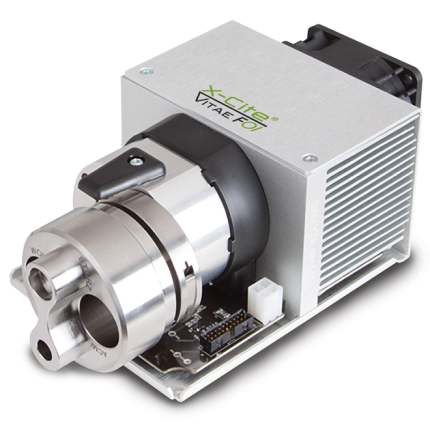 X-Cite Vitae FOI Configurable Fiber Optic Illumination System
The X-Cite VitaeTM FOI is a compact, configurable, white-light, LED light source for OEM medical applications such as endoscopy, surgical microscopy and headlamp systems. With high lumen and high CRI options, as well as a variety of coupling and control possibilities, the X-Cite Vitae FOI is a flexible illumination platform for simple integration.
This LED illumination system features pre-designed, configurable components that can quickly and easily be adapted to specific customer requirements minimizing design investment. As a result, product design for the most critical medical lighting requirements can be significantly reduced, allowing for shorter time-to-market.
Features and Benefits:
LED Technology: Reduced heat, longer lifetime, higher efficiency
High flux output (2000 lumens): Equivalent to current Xenon performance
Up to 92 CRI option: Broader spectral output
Standardized Fiber Interface: Integrated turret for industry standard fiber cables, custom coupling options available.
Small footprint and height: Allows for camera and light source integration
Fan orientation: Flexible heat exchange location (left, right or rear)
Optimized thermal management: Maximum LED output, lifetime, stability and reliability
Coupling optics: Maximum light coupling and uniformity
Ferrule sensing: Safely turns off light when fiber is not present
Flexible control electronics without firmware: Direct current control or PWM
Thermal cutoff sensor: Safety assurance via power cutoff when temperature exceeds predetermined limit
Configurable sheet metal mounting: Easily adapts to any customer housing
Custom variations: Adaptable platform for quick and cost effective changes - available upon request
TECHNICAL SPECIFICATIONS

 

Coupling

Four way turret accepting Storz, Wolf, ACMI, and Olympus ferrules optimized for 5mm, 0.56 NA fibers. Customized couplings available.

 

High Lumen

High CRI

Lumenous Output

2000 Lumens

1400 Lumens

Color Rendering Index

Minimum 70, Typical 75

Minimum 88*, Typical 92*

Color Temperature

5500-8000 K; Typical 7000 K

5000-7200 K*; Typical 6000 K

Control Options

Direct Current Control via 0-5V analog input or Pulse Width Modulation (PWM) via externally supplied signal. Dedicated Pin for LED ON/OFF.

Status Indicators

Output signals for power status, LED current level, and fan speed.

 

Thermal Monitoring

Built-in temperature sensor monitors LED temperature. Integrated hardware cutoff when LED temperature exceeds predetermined limit.

Ferrule Sensing

Safety sensor circuitry; senses fiber presence for increased safety.

Input Voltage, Power

12-24 VDC, 100W Minimum

Unit Dimensions

7.61" x 4.0" x 2.9" (L x W x H)
TECHNICAL SPECIFICATIONS

 

Coupling

Four way turret accepting Storz, Wolf, ACMI, and Olympus ferrules optimized for 5mm, 0.56 NA fibers. Customized couplings available.

 

High Lumen

High CRI

Lumenous Output

2000 Lumens

1400 Lumens

Color Rendering Index

Minimum 70, Typical 75

Minimum 88*, Typical 92*

Color Temperature

5500-8000 K; Typical 7000 K

5000-7200 K*; Typical 6000 K

Control Options

Direct Current Control via 0-5V analog input or Pulse Width Modulation (PWM) via externally supplied signal. Dedicated Pin for LED ON/OFF.

Status Indicators

Output signals for power status, LED current level, and fan speed.

 

Thermal Monitoring

Built-in temperature sensor monitors LED temperature. Integrated hardware cutoff when LED temperature exceeds predetermined limit.

Ferrule Sensing

Safety sensor circuitry; senses fiber presence for increased safety.

Input Voltage, Power

12-24 VDC, 100W Minimum

Unit Dimensions

7.61" x 4.0" x 2.9" (L x W x H)