Excelitas Technologies CheetIR-L High-Definition MWIR Thermal Camera Selected for the Liteye SHIELD C-UAS Platform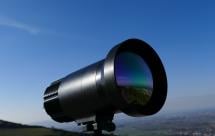 Excelitas Technologies® Corp., a leading industrial technology manufacturer focused on delivering innovative, market-driven photonic solutions, announced that its CheetIR-L High-Definition, Long Range Mid-Wave Infrared (MWIR) Camera has been selected for inclusion in the Liteye SHIELD™ counter unmanned air system (C-UAS) platform. The selection of CheetIR-L follows successful demonstration of the detection, tracking and identification of Group 1 and 2 unmanned air systems (UAS) in a range of combat environments at Yuma Proving Ground in the US.
Paired with a state-of-the-art 3D radar to detect and track drone threats 24/7 in all weather conditions, the fully digital, continuous zoom CheetIR-L high-definition MWIR camera integrates seamlessly into the SHIELD platform. CheetIR-L increases the range at which drones can be detected and tracked by a factor of two compared to legacy systems in a ruggedized package that is smaller and lighter. Its compact size and high-resolution make CheetIR-L ideal for C-UAS applications including anti-drone, mobile short-range air Defense (M-Shorad), targeting and surveillance.
"We have been extremely excited with the performance obtained by Excelitas' infrared cameras during our military exercises over the last few months," said Kenneth Geyer, CEO and Co-Founder of Liteye Systems, Inc. "Liteye will continue to work closely with their team to push the envelope on improving capabilities for the warfighter."
"Excelitas is proud to support Liteye and the U.S. Army in defense against the ever-increasing drone threat," said Chris Bigwood, V.P. Technical Business Development at Excelitas. "Combining a ruggedized x14 continuous zoom capability with the very latest in high-operating temperature (HOT) MWIR detector technology, CheetIR-L cameras provide exceptional imagery and deliver long-range surveillance and target identification in a compact volume, which make it a natural fit to pair with Liteye System's next-generation SHIELD C-UAS technology."
For additional information about Excelitas' CheetIR-L and other MWIR thermal camera solutions, please visit Excelitas online at: www.excelitas.com/product-category/mwir-thermal-cameras or in-person at Eurosatory Stand # C788, June 13 – 17, 2022 in Paris, France.
# # #
About Liteye Systems Inc. (www.Liteye.com)
Colorado-based, Liteye Systems, Inc. is a world leader and technology solutions manufacturer and integrator of military and commercial Counter Unmanned Aerial Systems (CUAS) systems, manufacture of US AUDS, Drone Sense and Warn Systems, rugged high-resolution head-mounted displays (HMD), augmented sights, thermal surveillance systems, covert surveillance systems, electronic warfare packages, radar systems, and fire control software solutions. With offices in the UK and sales affiliates worldwide, Liteye is protecting critical infrastructure from real-world threats.
About Excelitas Technologies 
Excelitas Technologies® Corp. is a leading industrial technology manufacturer focused on delivering innovative, market-driven photonic solutions to meet the illumination, optical, optronic, sensing, detection and imaging needs of our OEM and end-user customers. Serving a vast array of applications across biomedical, scientific, semiconductor, industrial manufacturing, safety, security, consumer products, defense and aerospace sectors, Excelitas stands committed to enabling our customers' success in their many various end-markets. Our team consists of more than 7,500 professionals working across North America, Europe and Asia, to serve customers worldwide.  
Connect with Excelitas on Facebook, LinkedIn, Twitter and Instagram. 
Excelitas®, Excelitas Technologies®, OmniCure® and Intelli-Lamp® are registered trademarks of Excelitas Technologies Corp. All other products and services are either trademarks or registered trademarks of their respective owners. 
Excelitas Technologies Contacts:
Craig Taylor 
Defense &Aerospace Marketing Manager
[email protected]
+44 1745 588002
Sunie Davis
Defense & Aerospace, Executive Assistant 
[email protected]
+1 (937) 353-2268
Cheryl Reynhout or Jill Anderson 
On Behalf of Excelitas Technologies Corp. 
SVM Public Relations 
[email protected]
+1 (401) 490-9700
Liteye Systems Contact:
Marya Mista
[email protected]
Download a PDF of this press release.