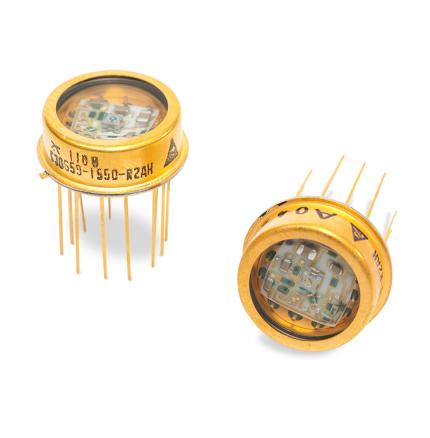 PART/ C30659-1550-R08BH
C30659-1550-R08BH - InGaAs APD Receiver, 80um, TO-8, 200MHz
The C30659 Series of InGaAs APD receivers includes a Silicon (Si) or InGaAs Avalanche Photodiode (APD) with a hybrid preamplifier, in the same hermetically-sealed TO-8 package, to allow for ultra-low noise operation.
The C30659 Series features an inverting amplifier design with an emitter follower used as an output buffer stage.
The Si APDs used in these devices are the same as used in the Excelitas' C30817EH, C30902EH, C30954EH and C30956EH products, while the InGaAs APDs are used in the C30645EH and C30662EH products. These detectors provide very good response between 830 and 1550 nm and very fast rise- and fall-times at all wavelengths. The preamplifier section of the module uses a very low noise GaAs FET front end designed to operate at higher transimpedance than our standard C30950 Series.
C30659-1550-R08BH device includes an Excelitas C30645EH InGaAs APD, optimized at 1550 nm.
System bandwidth: 200 MHz
Ultra low noise equivalent power (NEP)

250 fW/√Hz at 1300 nm
220 fW/√Hz at 1550 nm

Spectral response range: Peak at 1550 nm
Typical power consumption: 150 mW
±5 V amplifier operating voltages
50 Ω AC load capability (AC-Coupled)
Hermetically-sealed TO-8 package
High reliability
System bandwidth: 200 MHz
Ultra low noise equivalent power (NEP)

250 fW/√Hz at 1300 nm
220 fW/√Hz at 1550 nm

Spectral response range: Peak at 1550 nm
Typical power consumption: 150 mW
±5 V amplifier operating voltages
50 Ω AC load capability (AC-Coupled)
Hermetically-sealed TO-8 package
High reliability