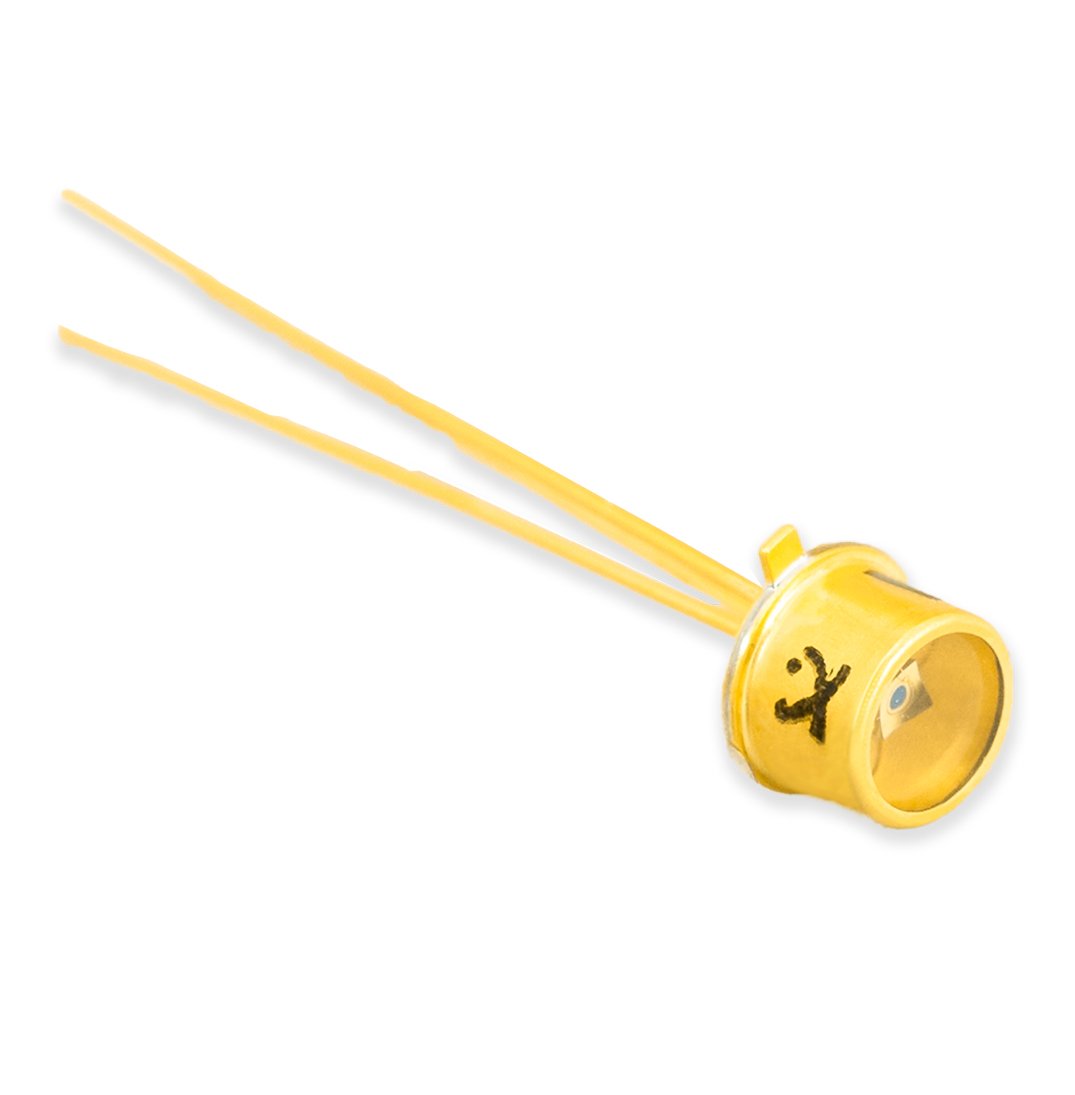 PART/ C30902SH
C30902SH - Si APD, 0.5mm, TO-18, Photon Counting
Excelitas' C30902SH Avalanche Photodiodes are high speed, large area Silicon APDs that provide high responsivity at low noise. They are specially selected to be used either in Geiger Mode (VOP > VBD) for detection of single photons or Linear Mode (VOP < VBD) with gains up to 250.
High Responsivity, Low Noise Reach-Through SPAD
The C30902SH family of Silicon SPADs provide extremely low noise and bulk dark-current enabling very high performance data and distance measurements. They are especially well suited for ultra-low light level detection applications (e.g. single photon counting and quantum communication) and intended for use with optical powers less than 1 pW. The C30902SH can be used in either the linear mode (VOP < VBD) at typical gains of 250 or greater, or in "Geiger" mode (VOP > VBD) with extremely low and stable dark count rates and after pulsing ratios. In this mode, no amplifiers are necessary and single-photon detection probabilities of up to approximately 50% are possible. For even greater performance, these high performance SPADs are available with single or dual-stage thermoelectric coolers.
Features
0.5 mm Si APD in TO-18 housing
High-quantum efficiency – 84% typical at 800 nm
Low noise at room temperature
High responsivity – internal avalanche gains >250
Spectral response range – 400 to 1100 nm
Time response – typically 0.4 ns
Wide operating temperature range -40°C to +85°C
Built-in TE-cooler option
Applications
LiDAR / ToF measurements
Quantum communication
Photon counting
Optical Time-Domain Reflectometer (OTDR)
Laser scanning
Active Area: 0.2 mm²
Active Diameter: 0.5 mm
Breakdown Voltage: typ. 225 V
Capacitance: typ. 1.5 pF
Temperature Coefficient: typ. 0.7 V/°C
Dark Current: 7 nA
Dark Noise: 0.1 pA/√Hz
Noise Equivalent Power: 0.74 fW/√Hz
Typically Responsivity: 135 A/W at 800 nm
Recommended Gain: 250
Package: TO-18, flat window
Active Area: 0.2 mm²
Active Diameter: 0.5 mm
Breakdown Voltage: typ. 225 V
Capacitance: typ. 1.5 pF
Temperature Coefficient: typ. 0.7 V/°C
Dark Current: 7 nA
Dark Noise: 0.1 pA/√Hz
Noise Equivalent Power: 0.74 fW/√Hz
Typically Responsivity: 135 A/W at 800 nm
Recommended Gain: 250
Package: TO-18, flat window