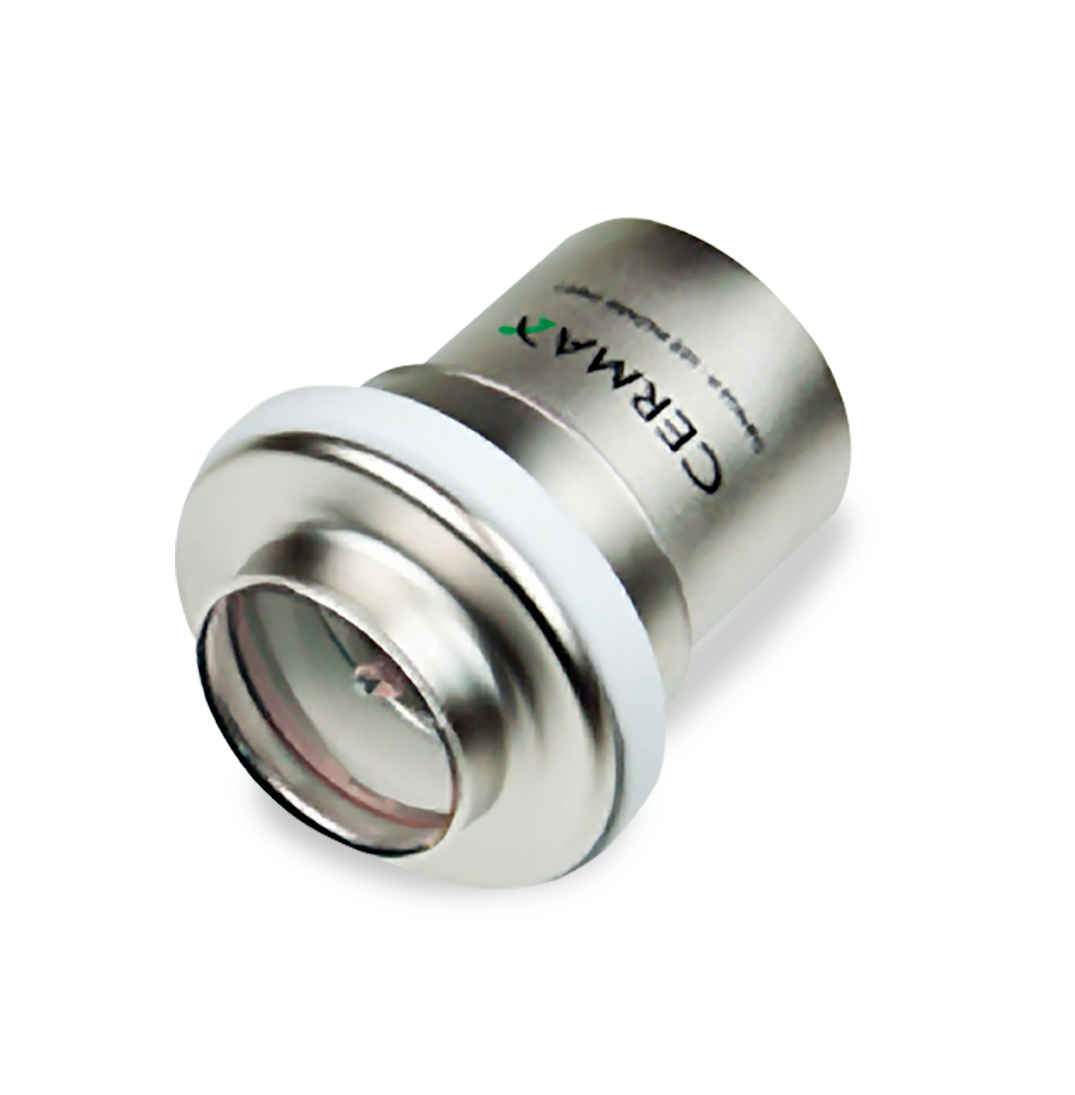 PART/ ME300BF and ME400BF
Cermax Metal Body Parabolic Xenon Lamps
Cermax® VQ Metal-body Parabolic Lamps are the premiere solution for medical lighting applications where performance and reliability are paramount. Our Cermax VQ Metal-body line delivers the unparalleled color performance that has made Cermax Xenon the medical industry standard for over 20 years.
Cermax VQ Xenon lamps are compact, metal- body short-arc lamps. With an internal, precision cut reflector body with metal-to-sapphire and ceramic seal construction, Cermax VQ lamps are a safe and very compact alternative to conventional quartz bubble Xenon lamps and are the recommended lamps for new Xenon illumination designs. 
Utilizing an integrated parabolic reflector, Cermax lamps produce high intensity, collimated light. This leaves the optical designer with the utmost flexibility in choice of post-processing, light-shaping optics.
Due to the Xenon lamps' broad color spectrum, the lamp is filtered to emit either visible, UV or IR light depending on application or usage.
Standard Cermax parabolic reflector metal body lamps have operating power ranges from 300 to 400 Watt.
Reflector Type: Parabolic
Body Type: Metal
Total Visible Output: 5500 Lumens
Power - Nominal: 300 Watts
Power - Range: 275-325 Watts
Current - Range: 17-23 Amps (DC)
Minimum Ignition Voltage: 23 kilovolts (system dependent)
Operating Voltage - Nominal: 13.5 Volts (DC)
Operating Voltage - Range: 12-15 Volts (DC)
Lifetime: 1000 hours typical
Temperature: 150° C (maximum)
Radiant Output: 75 Watts
UV Output (<390 nm): 4.0 Watts
IR Output (>770 nm): 37 Watts
Reflector Type: Parabolic
Body Type: Metal
Total Visible Output: 5500 Lumens
Power - Nominal: 300 Watts
Power - Range: 275-325 Watts
Current - Range: 17-23 Amps (DC)
Minimum Ignition Voltage: 23 kilovolts (system dependent)
Operating Voltage - Nominal: 13.5 Volts (DC)
Operating Voltage - Range: 12-15 Volts (DC)
Lifetime: 1000 hours typical
Temperature: 150° C (maximum)
Radiant Output: 75 Watts
UV Output (<390 nm): 4.0 Watts
IR Output (>770 nm): 37 Watts