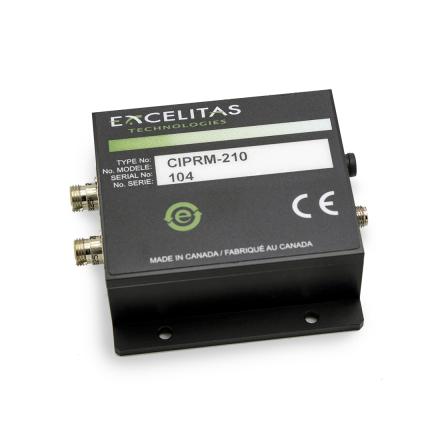 PART/ CIPRM-110/210
CIPRM - Coherent InGaAs PIN Balanced Receiver Module
The Excelitas CIPRM Series of balanced optical receivers features our high-performance InGaAs photodiodes and a low noise, high gain transimpedance amplifier to offer a practical solution to detect small changes above the interfering noise floor of incoming optical signals. The advantage is that the common optical noise is cancelled out.
This balanced optical receiver incorporates two low-noise photodiodes with well-matched responsivity, in order to ensure a high common mode rejection ratio (CMRR). It has two optical inputs (single mode fiber in -1 series and FC connectorized in -2 series), an RF output, electrical supply inputs and two photo-current monitor outputs.
The CIPRM Modules come in a robust casing with flange mounting holes for securing the module to working surfaces or platforms. Combined with a wide operating temperature range, the CIPRM can work in some of the toughest and harshest environments.
Our series of optical balanced receiver modules are designed and built to be fully compliant with the European Union's RoHS Directive 2011/65/EU.
Spectral range 800- 1650 nm
200MHz bandwidth
High performance InGaAs photodiodes and TIA
Matched responsivity
Photo-current monitor outputs
Rugged and Robust
RoHS compliant
Enhanced EMC/EMI performance
Spectral range 800- 1650 nm
200MHz bandwidth
High performance InGaAs photodiodes and TIA
Matched responsivity
Photo-current monitor outputs
Rugged and Robust
RoHS compliant
Enhanced EMC/EMI performance