d.fine HR 2.4/128 Lens
The LINOS® d.fine HR 2.4/128 3.33X high-resolution inspection lens is optimized for a magnification factor of 3.33X achieving object resolution of up to 300 lp/mm across image circle diameters as large as 82 mm. With the addition of modular accessories, the d.fine HR 2.4/128 enables dual-support for both 12k/16k line sensors and large format area sensors providing maximum versatility for handling countless imaging tasks. Featuring an aperture of 2.4 combined with an extremely low distortion of 0.1%, the d.fine HR 2.4/128 is the perfect choice for the most demanding high throughput imaging applications.
The LINOS d.fine HR 2.4/128 3.33X lens is a perfect match for modern, high-resolution cameras support 3.5 and 5 µm pixel line sensors, as well as large area sensors. It is optimized for applications with extreme high resolution requirements. The lens can be equipped with a prism module for coaxial illumination for line scan applications. For area scan applications, this same d.fine HR lens can be used with its corresponding area scan module. Mechanical focusing tubes are also readily available to adapt the lens to M72, M90 and M95 camera mounts.
Learn more about all LINOS d-fine HR Lens on Qioptiq-Shop.com.
Optical Parameters:
Focal length 128 mm
Aperture 2.4 … 8
Magnification 3.33 (rec. range: 3.2 … 3.5)
Optimal for 12k and 16k line sensors and coaxial illumination
Also suitable for large area sensors such as 150 MP
Recommended for pixel sizes down to 3.5 μm
Large image circle of 82 mm
Working distance:

60 mm with line scan prism module
91 mm with area scan module

Spectral range: 400 - 750 nm
MTF (image side) 35% @ 72 Lp/mm (design value)
Distortion < 0.1% (design value)
Mechanical Parameters:
Aperture adjustable
V-groove adaption
All metal barrel
Accessories:
d.fine HR line scan prism module
d.fine HR area scan module
Focus tube system for M72, M90 and M95 cameras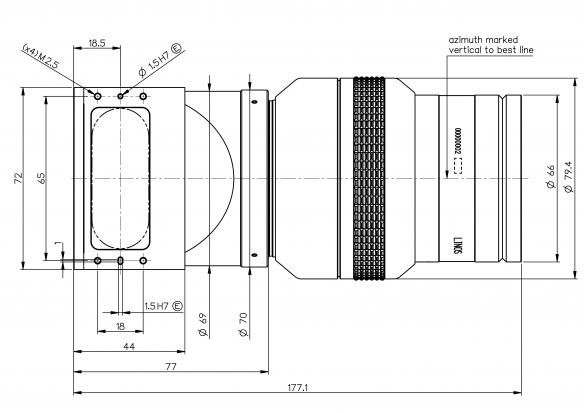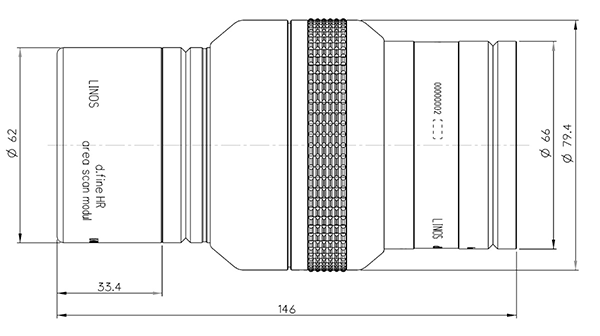 Optical Parameters:
Focal length 128 mm
Aperture 2.4 … 8
Magnification 3.33 (rec. range: 3.2 … 3.5)
Optimal for 12k and 16k line sensors and coaxial illumination
Also suitable for large area sensors such as 150 MP
Recommended for pixel sizes down to 3.5 μm
Large image circle of 82 mm
Working distance:

60 mm with line scan prism module
91 mm with area scan module

Spectral range: 400 - 750 nm
MTF (image side) 35% @ 72 Lp/mm (design value)
Distortion < 0.1% (design value)
Mechanical Parameters:
Aperture adjustable
V-groove adaption
All metal barrel
Accessories:
d.fine HR line scan prism module
d.fine HR area scan module
Focus tube system for M72, M90 and M95 cameras