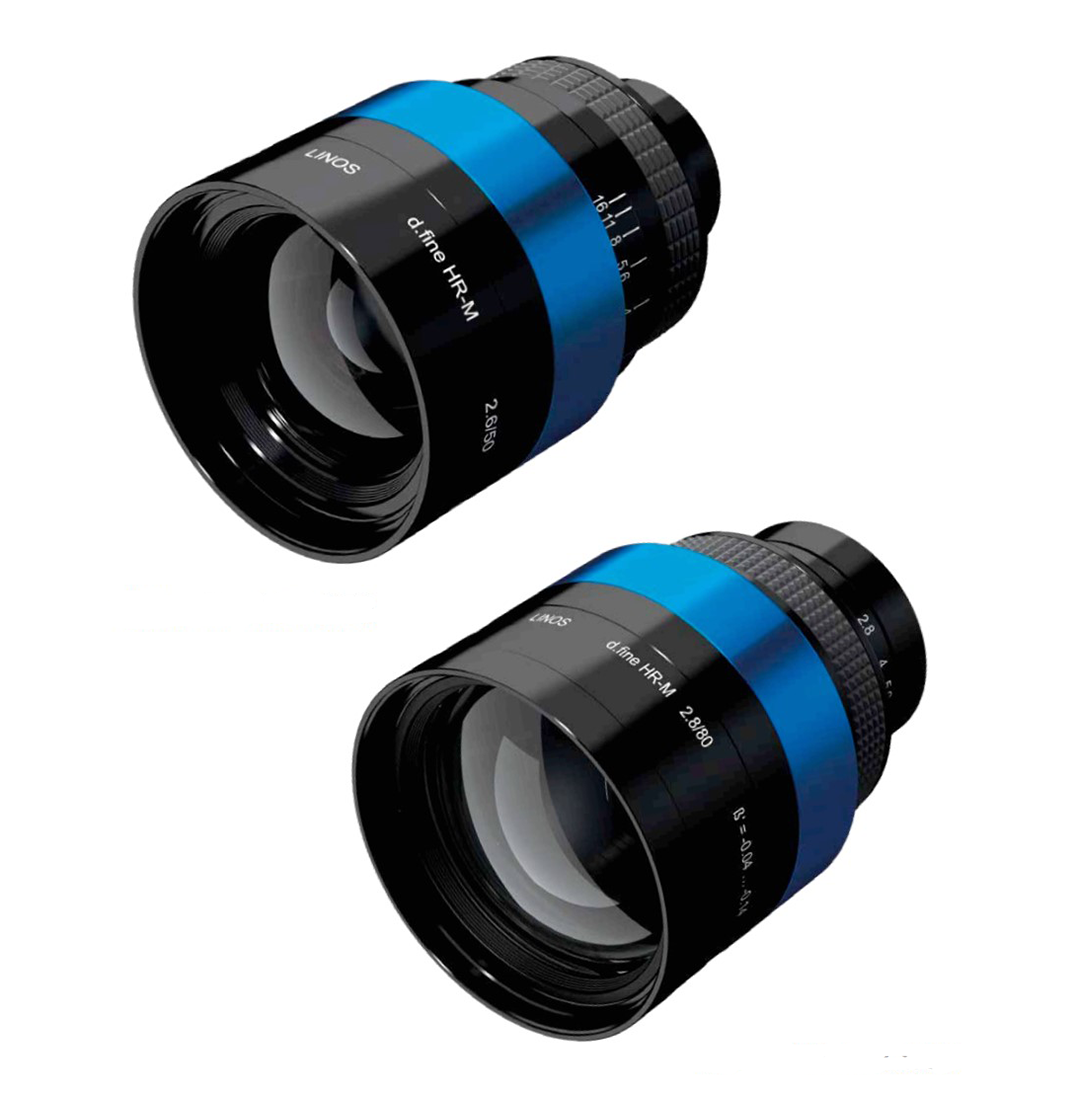 d.fine HR-M Series
The new LINOS d.fine HR-M lens series from Excelitas pushes technological advancements with a ground up design offering ultra-precision imaging performance across large field of views.  Designed with efficiency and throughput in mind, the large apertures optimize light throughput, minimizing cycle times, critical in an industrial environment. Ultra fine resolution to the corners of the field of view ensure consistent imaging performance across full format sensors and long line 16K format sensors with pixels sizes down to 3.5µm.
In combination with our new flexible focusing and mounting modules, the d.fine HR-M lens series can be connected to almost any industrial camera, enabling optimal performance for a wide range of machine vision applications.
Also, try our MachVis Lens Selector tool to help identify the perfect lens solution for your imaging and machine vision requirements.
| | | | | | | |
| --- | --- | --- | --- | --- | --- | --- |
| Part No. |  Product Description | Focal length | F-number | Mag. range | Image circle | Interface |
|   |   | mm | mm |   | Diameter, mm |   |
| 0703-145-000-20 | d.fine HR-M 2.6/50 0.15x | 50 | 2.6 | -0.1..-0.2 | 56.8 | V-groove ø44 |
| 0703-145-000-30 | d.fine HR-M 2.6/50 0.063x | 50 | 2.6 | -0.025..-0.1 | 56.8 | V-groove ø44 |
| 0703-146-000-20 |  d.fine HR-M 2.8/80 0.2x | 80 | 2.8 | -0.14 ... -0.27 | 62.4 | M52x0.5 |
| 0703-146-000-30 |  d.fine HR-M 2.8/80 0.09x | 80 | 2.8 | -0.04 ... -0.14 | 62.4 | M52x0.5 |
Ultra fine resolution lens
Large aperture maximizing light throughput
For large area sensors and line sensors up to 16k/3.5µm
Precision alignment for consistent full field of view imaging performance
Focal length: 50 and 80 mm
Aperture 2.6 … 16
Image circle: up to 62.4mm
Working distance: 252 ... 2016mm
Magnification range: 0.025 … 0.27
Spectral range: 400 ... 750 nm
| | | | | | | |
| --- | --- | --- | --- | --- | --- | --- |
| Part No. |  Product Description | Focal length | F-number | Mag. range | Image circle | Interface |
|   |   | mm | mm |   | Diameter, mm |   |
| 0703-145-000-20 | d.fine HR-M 2.6/50 0.15x | 50 | 2.6 | -0.1..-0.2 | 56.8 | V-groove ø44 |
| 0703-145-000-30 | d.fine HR-M 2.6/50 0.063x | 50 | 2.6 | -0.025..-0.1 | 56.8 | V-groove ø44 |
| 0703-146-000-20 |  d.fine HR-M 2.8/80 0.2x | 80 | 2.8 | -0.14 ... -0.27 | 62.4 | M52x0.5 |
| 0703-146-000-30 |  d.fine HR-M 2.8/80 0.09x | 80 | 2.8 | -0.04 ... -0.14 | 62.4 | M52x0.5 |
Ultra fine resolution lens
Large aperture maximizing light throughput
For large area sensors and line sensors up to 16k/3.5µm
Precision alignment for consistent full field of view imaging performance
Focal length: 50 and 80 mm
Aperture 2.6 … 16
Image circle: up to 62.4mm
Working distance: 252 ... 2016mm
Magnification range: 0.025 … 0.27
Spectral range: 400 ... 750 nm