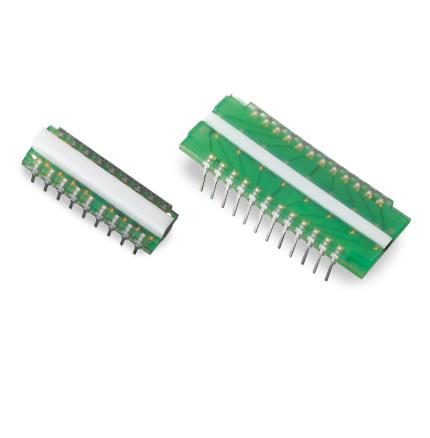 PART/ VTA1216H-L-NC-00-0
VTA1216H-L-NC-00-0 - Si PDA, 16-Elements, 1.2mm Pitch
The VTA1216H-L-NC-00-0 is a 1.2 mm pitch, 16-element photodiode array designed for X-ray detection. It can be ordered with various scintillator crystals for low energy detection in dual-energy detection architectures. It can be paired in such systems with our VTA1216H-H Series of photodiode arrays for high energy detection.
The VTA1216H Series is a 16-channel high-resolution Photodiode Array (PDA). There are 8 dual-element photodiodes mounted directly on an FR-4 printed circuit board (PCB). The pitch (sensor-to-sensor spacing of adjacent chips) for this series is 1.2 mm; other pitches are available as off-the-shelf or as custom devices.
A transparent coating material covers the photo-sensitive chip area while a glob top encapsulant protects the bond wires from damage and environmental influences. These parts are available with or without a scintillator material mounted over the photodiode active area to convert X-rays into visible photons of light.
Photodiodes with extremely low dark current
High signal-to-noise ratio
Scintillator crystals available on demand to convert incident X-rays into visible photons
16-channels at 1.2 mm pitch
Single or dual-energy systems compatible
Photodiodes with extremely low dark current
High signal-to-noise ratio
Scintillator crystals available on demand to convert incident X-rays into visible photons
16-channels at 1.2 mm pitch
Single or dual-energy systems compatible