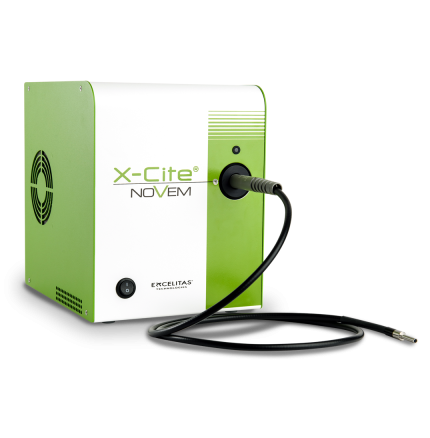 PART/ X-Cite NOVEM
X-Cite NOVEM Powerful, 9-Channel LED Illumination System
The X-Cite NOVEMTM is our next generation of LED light sources delivering the brightest and most powerful LED Illuminator ever. This nine-wavelength, fast-switching system includes spectral coverage from Fura-2 all the way to IR800. Taking advantage of our patented LaserLED Hybrid Drive® to effortlessly fill the green gap in the challenging 500 – 600nm range, X-Cite NOVEM features high excitation power for fluorescence applications across the UV-visible-NIR spectrum.  With four configuration options and pre-installed clean-up filters, researchers can choose the combination best-suited to their existing and future imaging applications.
MORE POWER. MORE WAVELENGTHS. MORE X-CITE.
The X-Cite NOVEM has it all. With high power output, a wide spectral range, convenient design features, and whisper-quiet operation, this nine-channel LED illuminator does everything but compromise.   
With nine individually controllable channels, the X-Cite NOVEM is bright enough to rival arc lamps in microscopy applications.  Reduced sample exposure and scanning times will translate to improved image quality and productivity in most applications.  Each channel can be set to its own intensity, in 1% increments, providing full control and flexibility together with exceptional uniformity and stability.
Unique to the X-Cite NOVEM, its spectral coverage extends from UV to IR. Researchers can image Fura-2 using the 340/385nm LEDs for ratiometric calcium imaging, powerful excitation for Cy7, and for the first time, IR800 and other emerging far-red fluorophores.

Key Features:

Full spectral coverage from Fura-2 to IR800
Nine-channel wavelength selection
LaserLED Hybrid Drive with four-position motorized filter changer
Pre-installed clean-up filters
Control via speedDIAL, USB, TTL, analog
Whisper quiet operation
X-Cite NOVEM provides researchers with new fluorophore imaging options never before available. Available in four standard configurations, the X-Cite NOVEM tailors to the needs of specific applications to reduce complexity while optimizing cost versus performance. 
GET TO KNOW SAM AND ELLA! If you have not met Sam and Ella, the X-Cite microbes, watch the video episodes below to catch up on their adventures. 

Also, sign up for our X-Cite newsletter to be the first to learn more about the X-Cite NOVEM and how this nine-channel LED illuminator does everything but compromise. Sign up Now!

 
TECHNICAL SPECIFICATIONS

 Wavelength Ranges

X-Cite NOVEM-S, XT910: 360-770nm

X-Cite NOVEM-L, XT920: 380-770nm

X-Cite NOVEM-FURA, XT930: 340-660nm

X-Cite NOVEM-IR, XT940: 360-800nm

Input Power Supply

Universal input 100-240VAC, 50/60Hz

Current

4.5A max/100V, 1.9A max/240V

Response Times

LED ON/OFF:  100μs TTL / 1ms USB

Rotary Filter Changer: 500ms /  ≤2s minimum duty cycle

Control Options

speedDIAL

ON/OFF - TTL compatible

Intensity - Analog

RS-232 commands (SDK available), USB

I/O Connections

Mini DIN plug, 9pos (speedDIAL)

USB (B-type)

DB15 x 9 BNC (TTL)

DB15 x 6 BNC (Analog)

Dimensions (WxHxD)

205mm x 265mm x 270mm (8.1" x 10.8" x 10.6")

Weight

9kg  (19.8lbs)

Shipping Dimensions (WxHxD)

440mm x 400mm x 555mm (17.3" x 15.7" x 21.8")

Shipping Weight

11.8kg (26lbs)

Certifications

CE, RoHS, KC

Warranty

LEDs – 25,000 hours or 3 years

All other X-Cite NOVEM components - 1 year, parts and labor (excluding LLG)

Patents

X-Cite NOVEM incorporates technology protected by patent US#9,239,133
TECHNICAL SPECIFICATIONS

 Wavelength Ranges

X-Cite NOVEM-S, XT910: 360-770nm

X-Cite NOVEM-L, XT920: 380-770nm

X-Cite NOVEM-FURA, XT930: 340-660nm

X-Cite NOVEM-IR, XT940: 360-800nm

Input Power Supply

Universal input 100-240VAC, 50/60Hz

Current

4.5A max/100V, 1.9A max/240V

Response Times

LED ON/OFF:  100μs TTL / 1ms USB

Rotary Filter Changer: 500ms /  ≤2s minimum duty cycle

Control Options

speedDIAL

ON/OFF - TTL compatible

Intensity - Analog

RS-232 commands (SDK available), USB

I/O Connections

Mini DIN plug, 9pos (speedDIAL)

USB (B-type)

DB15 x 9 BNC (TTL)

DB15 x 6 BNC (Analog)

Dimensions (WxHxD)

205mm x 265mm x 270mm (8.1" x 10.8" x 10.6")

Weight

9kg  (19.8lbs)

Shipping Dimensions (WxHxD)

440mm x 400mm x 555mm (17.3" x 15.7" x 21.8")

Shipping Weight

11.8kg (26lbs)

Certifications

CE, RoHS, KC

Warranty

LEDs – 25,000 hours or 3 years

All other X-Cite NOVEM components - 1 year, parts and labor (excluding LLG)

Patents

X-Cite NOVEM incorporates technology protected by patent US#9,239,133