Excelitas Technologies Releases the Latest Version of its Lens Selection Software, MachVis 5.4
Excelitas Technologies Releases the Latest Version of its Lens Selection Software, MachVis 5.4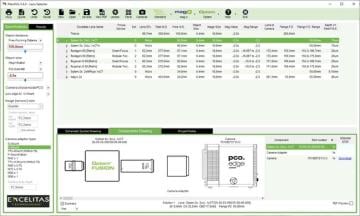 Excelitas Technologies® Corp, a leading industrial technology manufacturer focused on delivering innovative, market-driven photonic solutions, announces the launch of its advanced MachVis 5.4 Lens Configurator software. The updated platform offers streamlined lens selection for vision system designers and engineers with a focus on user-friendly features and improved lens selection algorithms.
MachVis 5.4 software enables identification and configuration of lens solutions and mechanical accessories among Excelitas LINOS® Machine Vision Lenses, Optem®  FUSION Micro-Imaging, Qioptiq mag.x Microscopy Systems, and now includes PCO® Cameras. The software also provides comprehensive product information, access to new lens series, accessories and 3D files. This easy-to-use tool is ideal for a variety applications including machine vision, semiconductor and electronics manufacturing, FPD production, quality assurance, inspection and logistics.
By simply adding user-provided parameters, the complimentary MachVis 5.4 software identifies appropriate lenses and generates valuable supporting documentation. As a product database, it facilitates seamless integration planning and ordering processes, giving users quick access to drawings, product data, mechanical accessories (such as focusing units, extension tubes, cameras, etc.), and instant schematic illustrations of complete system setups.
New MachVis 5.4 features include:
Lens series: LINOS d.fine HR-M
Helical mount: Smart-Focus HR-M
Focus system: Focus Clamp HR-M
Focus system: Focus Unit HR
PCO: Camera database
PCO: Camera selector
 
"We are pleased to introduce the latest enhancements to our MachVis software," said Arthur Stauder, Product Manager / Application Engineer at Excelitas. "Featuring an intuitive graphical user interface and comprehensive product information and documentation, the updated MachVis 5.4 software delivers both speed and efficiency. As a result, users can quickly identify the right lens solution from our broad portfolio of LINOS, Optem, Qioptiq, and PCO Camera offerings to fit the requirements for their optical applications."
The MachVis 5.4 Vision Lens Configurator is now available for download at https://www.excelitas.com/product/machvis-lens-configurator.
# # # 
About Excelitas Technologies 
Excelitas Technologies® Corp. is a leading industrial technology manufacturer focused on delivering innovative, market-driven photonic solutions to meet the illumination, optical, optronic, sensing, detection and imaging needs of our OEM and end-user customers. Serving a vast array of applications across biomedical, scientific, semiconductor, industrial manufacturing, safety, security, consumer products, defense and aerospace sectors, Excelitas stands committed to enabling our customers' success in their many various end-markets. Our team consists of more than 7,500 professionals working across North America, Europe and Asia, to serve customers worldwide. 
Connect with Excelitas on Facebook, LinkedIn, Twitter and Instagram, or visit http://www.excelitas.com for more information.
Excelitas®, Excelitas Technologies®, LINOS®, Optem® and PCO® are registered trademarks of Excelitas Technologies Corp. All other products and services are either trademarks or registered trademarks of their respective owners.
 
Contacts:
Scott Orr 
Senior Director of Global Marketing - Commercial 
[email protected]   
+1 (781) 996-5925 
Cheryl Reynhout or Jill Anderson 
On Behalf of Excelitas Technologies Corp. 
SVM Public Relations 
[email protected] 
+1 (401) 490-9700
Download a PDF of this media advisory.