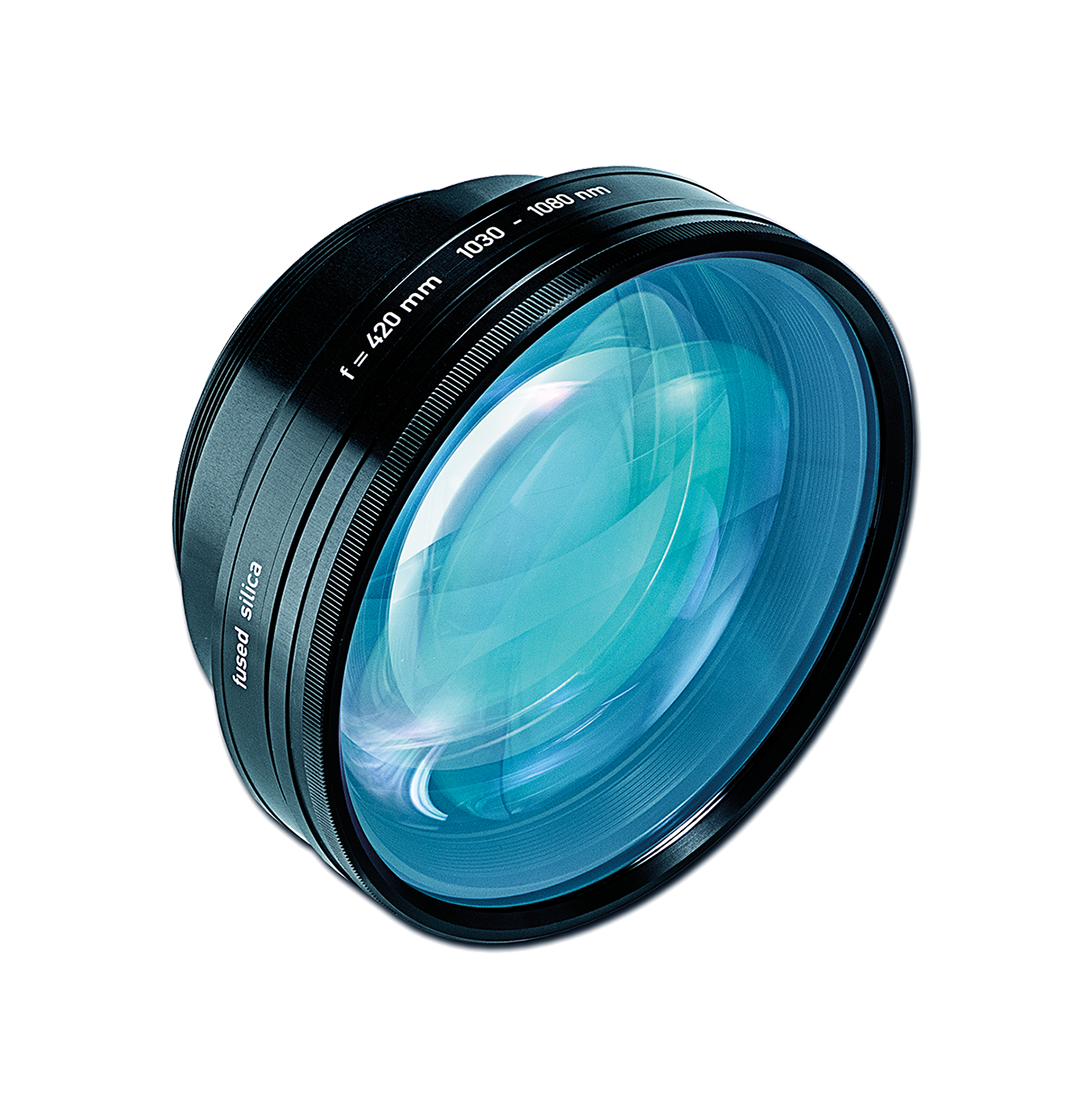 LINOS F-Theta-Ronar Lenses 1030 – 1080 nm
The LINOS® F-Theta-Ronar lenses are designed to achieve aberration-free imaging for laser wavelengths between 1030 – 1080 nm, allowing exceptionally small spot diameters over the entire flat image plane. A large variety of focal lengths in optical glass or fused silica designs for high power and ultra-short-pulse laser applications as well as telecentric versions are available, making LINOS F-Theta-Ronar lenses suitable for a wide variety of laser material processing applications. Manufactured with leading-edge production technologies to ensure long-term optical stability, LINOS F-Theta-Ronar lenses meet highest quality standards.
Due to their extra low absorption coating and their extremely small thermal focus shift, LINOS fused silica F-Theta-Ronar lenses are a perfect match for high power applications such as metal welding or cutting as well as for ultrashort-pulse laser applications and hence, the first choice in semiconductor manufacturing.
Fused-silica and optical-glass designs
Telecentric versions available
Focal lengths ranging from 70 mm to 420 mm, tolerance ±1 %
Transmission ≥ 96 % with good performance in VIS-range
Laser-damage threshold coating up to 40 J/cm² at 1064 nm, 12 ns, 100 Hz and up to 0.9 J/cm² at 1030 nm, 291 fs, 5 kHz
Low absorption coating for fused silica lenses ≤ 20 ppm at 1064 nm
Includes interchangeable protective glasses
All lenses can be used with enlarged beam diameters and different mirror distances. Scan fields and spot size diameters will change accordingly. Please contact us to discuss your specific requirements.
For 3D drawings and datasheets for each lens please refer to Q-Shop - Docs + Drawings.
F-Theta-Ronar Lenses, 1030-1080 nm Wavelengths, Fused Silica
Part No.

Product
description

Nominal
 focal
 length

Maximum
 scan field

Scan angle

Beam diameter
truncated at 1/e²

Spot
diameter
at 1/e²

Mirror distances

Flange
focal
length

Working
distance

Max.
 telecentric
error (°)

Screw
thread

Protective
 glass

 

 

(mm)

(mm²)

± Thetax,y max. (°)

Øbeam (mm)

Øspot (µm)

(m1/m2) (mm)

(FFL) (mm)

(WD) (mm)

(°)

 

 

F-Theta-Ronar Telecenter
fused silica f=70 mm

70

26 x 26

±10.9

14

10

17/17

128.8

87.5

1.8

M85x1

PG22

F-Theta-Ronar Telecenter
fused silica f=100 mm

100

44 x 44

±12.2

14

15

17/28

218

137

2.1

M85x1

PG14

F-Theta-Ronar Telecenter
fused silica f=118 mm

118

50 x 50

±15.6

14

17

17/28

233.9

150

1.6

M85x1

PG14

F-Theta-Ronar
fused silica f=163 mm

163

85 x 85

±15.2

14

23

17/23

292

219.3

4.9

M85x1

PG14

F-Theta-Ronar Telecenter
fused silica f=167 mm

167

84 x 84

±14.9

20

16

26/28

313.2

215.4

3.7

M85x1

PG16

4401-631-000-26
NEW

F-Theta-Ronar Telecenter
fused silica f=251 mm

251 

63 x 63

±7.2

20

25

25/30

537.6

372.4

0.6

M85x1

PG16

F-Theta-Ronar
fused silica f=255 mmm

255

187 x 187

±21.3

10

50

13/25

364.2

317.4

15.5

M85x1

PG14

F-Theta-Ronar
fused silica f=270 mm

270

136 x 136

±14.8

20

27

25/32

440.5

352

7.9

M85x1
M110x1

PG16

F-Theta-Ronar
fused silica f=340 mm

340

176 x 176

±15.1

20

33

26/26

515

441.6

10.5

M85x1

PG16

F-Theta-Ronar
fused silica f=420 mm

420

254 x 254

±17.3

20

42

26/24

559

510.9

15.4

M85x1

PG14
LINOS F-Theta-Ronar, Wavelength 1064 nm, Optical Glass
Part No.

Product
description

Nominal
 focal
 length

Maximum
 scan field

Scan angle

Beam diameter
truncated at 1/e²

Spot
diameter
at 1/e²

Mirror distances

Flange
focal
length

Working
distance

Max.
 telecentric
error (°)

Screw
thread

Protective
glass

 

 

(mm)

(mm²)

± Thetax,y max. (°)

Øbeam (mm)

Øspot (µm)

(m1/m2) (mm)

(FFL) (mm)

(WD) (mm)

(°)

 

 

F-Theta-Ronar
f=100 mm

100

62 x 62

±17.7

12

16

16/12

106

97.7

 

M85x1

PG2

F-Theta-Ronar Telecenter
f=100 mm

100 telecentric

57 x 57

±17.0

14

14

17/29

195.2

126

0.1

M85x1

PG6

F-Theta-Ronar
f=160 mm

160

99 x 99

±17.7

12

26

16/12

184.4

176.2

 

M85x1

PG2

F-Theta-Ronar
f=163 mm

163

115 x 115

±20.2

10

32

13/24

219.1

185.9

 

M76x1

PG5

F-Theta-Ronar
f=254 mm

254

157 x 157

±17.7

20

25

26/23

344.8

296.2

 

M85x1

PG6

F-Theta-Ronar
f=330 mm

330

217 x 217

±18.7

16

40

18/24

442.6

387.6

 

M85x1

PG6

F-Theta-Ronar
f=420 mm

420

291 x 291

±19.8

15

55

30/16

548.8

494.2

 

M85x1

PG6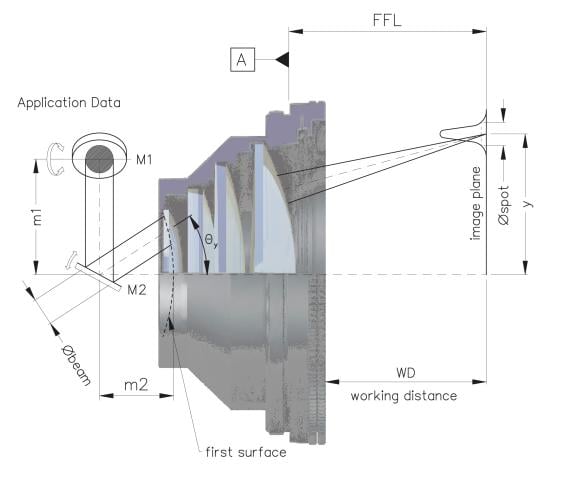 F-Theta-Ronar Lenses, 1030-1080 nm Wavelengths, Fused Silica
Part No.

Product
description

Nominal
 focal
 length

Maximum
 scan field

Scan angle

Beam diameter
truncated at 1/e²

Spot
diameter
at 1/e²

Mirror distances

Flange
focal
length

Working
distance

Max.
 telecentric
error (°)

Screw
thread

Protective
 glass

 

 

(mm)

(mm²)

± Thetax,y max. (°)

Øbeam (mm)

Øspot (µm)

(m1/m2) (mm)

(FFL) (mm)

(WD) (mm)

(°)

 

 

F-Theta-Ronar Telecenter
fused silica f=70 mm

70

26 x 26

±10.9

14

10

17/17

128.8

87.5

1.8

M85x1

PG22

F-Theta-Ronar Telecenter
fused silica f=100 mm

100

44 x 44

±12.2

14

15

17/28

218

137

2.1

M85x1

PG14

F-Theta-Ronar Telecenter
fused silica f=118 mm

118

50 x 50

±15.6

14

17

17/28

233.9

150

1.6

M85x1

PG14

F-Theta-Ronar
fused silica f=163 mm

163

85 x 85

±15.2

14

23

17/23

292

219.3

4.9

M85x1

PG14

F-Theta-Ronar Telecenter
fused silica f=167 mm

167

84 x 84

±14.9

20

16

26/28

313.2

215.4

3.7

M85x1

PG16

4401-631-000-26
NEW

F-Theta-Ronar Telecenter
fused silica f=251 mm

251 

63 x 63

±7.2

20

25

25/30

537.6

372.4

0.6

M85x1

PG16

F-Theta-Ronar
fused silica f=255 mmm

255

187 x 187

±21.3

10

50

13/25

364.2

317.4

15.5

M85x1

PG14

F-Theta-Ronar
fused silica f=270 mm

270

136 x 136

±14.8

20

27

25/32

440.5

352

7.9

M85x1
M110x1

PG16

F-Theta-Ronar
fused silica f=340 mm

340

176 x 176

±15.1

20

33

26/26

515

441.6

10.5

M85x1

PG16

F-Theta-Ronar
fused silica f=420 mm

420

254 x 254

±17.3

20

42

26/24

559

510.9

15.4

M85x1

PG14
LINOS F-Theta-Ronar, Wavelength 1064 nm, Optical Glass
Part No.

Product
description

Nominal
 focal
 length

Maximum
 scan field

Scan angle

Beam diameter
truncated at 1/e²

Spot
diameter
at 1/e²

Mirror distances

Flange
focal
length

Working
distance

Max.
 telecentric
error (°)

Screw
thread

Protective
glass

 

 

(mm)

(mm²)

± Thetax,y max. (°)

Øbeam (mm)

Øspot (µm)

(m1/m2) (mm)

(FFL) (mm)

(WD) (mm)

(°)

 

 

F-Theta-Ronar
f=100 mm

100

62 x 62

±17.7

12

16

16/12

106

97.7

 

M85x1

PG2

F-Theta-Ronar Telecenter
f=100 mm

100 telecentric

57 x 57

±17.0

14

14

17/29

195.2

126

0.1

M85x1

PG6

F-Theta-Ronar
f=160 mm

160

99 x 99

±17.7

12

26

16/12

184.4

176.2

 

M85x1

PG2

F-Theta-Ronar
f=163 mm

163

115 x 115

±20.2

10

32

13/24

219.1

185.9

 

M76x1

PG5

F-Theta-Ronar
f=254 mm

254

157 x 157

±17.7

20

25

26/23

344.8

296.2

 

M85x1

PG6

F-Theta-Ronar
f=330 mm

330

217 x 217

±18.7

16

40

18/24

442.6

387.6

 

M85x1

PG6

F-Theta-Ronar
f=420 mm

420

291 x 291

±19.8

15

55

30/16

548.8

494.2

 

M85x1

PG6