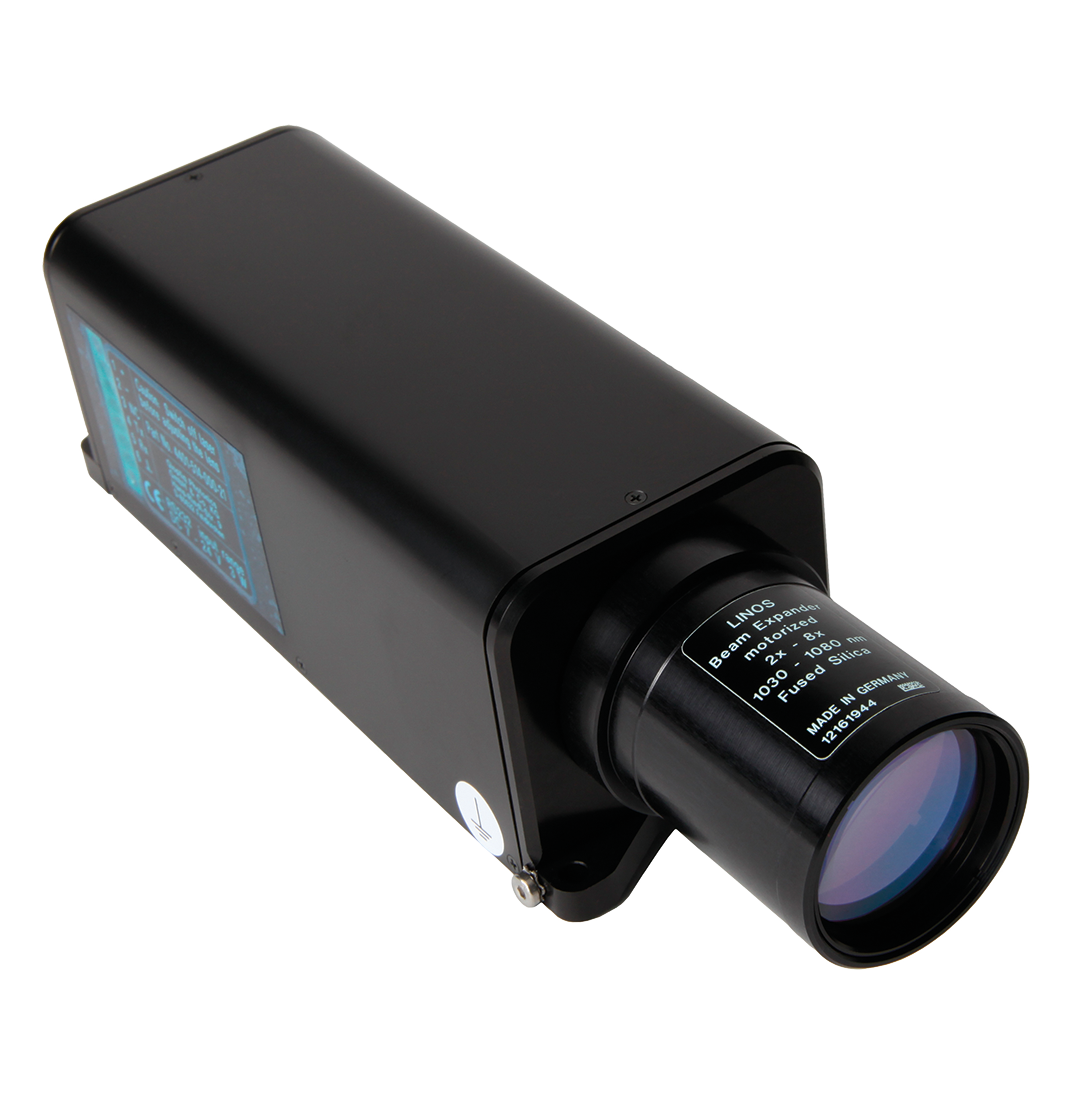 LINOS Motorized Variable Magnification Beam Expander
The motorized version of our well-known LINOS® Variable Beam Expanders enables fully automated laser material processing systems, allowing maximum versatility in the design of laser systems. Faster machine setup times can be realized maintaining laser-protection class during readjustment of the system. Individual presets of laser beam magnification and divergence settings are stored and controlled through a provided Windows™ software.  
Continuous variable magnification 1x ...4x or 2x ...8x for wavelength 340-360 nm, 515-540 nm or 1030-1080 nm
Fused-silica designs
Continuous variation of exit-beam divergence
Software running on the Windows™ platform (Win10)
Automatic change of magnification to reduce machine setup times
Maintains laser-protection class during readjustment of the beam expander
All-in-one design, controller integrated
CE and ROHS conform
IP 20 
For manual, 3D drawings and datasheets for each lens please refer to Q-Shop - Docs + Drawings.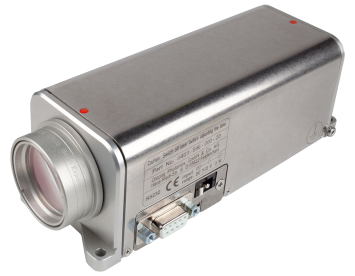 LINOS natural anodized Motorized Variable Beam Expander
LINOS Motorized Variable Beam Expander, 1x-4x, Fused Silica
Part No.

Product description

Wavelength

Max. entrance-beam diameter
truncated at 1/e²

Lens elements

PC Interface

 

 

(nm)

(mm)

 

 

Beam-Expander mot. 1x...4x
340 – 360 nm USB 2.0

340 – 360

8

5

SubD9/ RS232

Beam-Expander mot. 1x...4x
515 – 540 nm SubD9/ RS232

340 – 360

8

5

Phoenix Contact/ RS232

Beam-Expander mot. 1x...4x
515 – 540 nm Phoenix Contact

340 – 360

8

5

USB 2.0

Beam-Expander mot. 1x...4x
515 – 540 nm USB 2.0

515 – 540

8

5

SubD9/ RS232

Beam-Expander mot. 1x...4x
1030 – 1080 nm SubD9/ RS232

515 – 540

8

5

Phoenix Contact/ RS232

Beam-Expander mot. 1x...4x
1030 – 1080 nm Phoenix Contact

515 – 540

8

5

USB 2.0

Beam-Expander mot. 1x...4x
1030 – 1080 nm USB 2.0

1030 – 1080

8

5

SubD9/ RS232

Beam-Expander mot. 1x...4x
340 – 360 nm USB 2.0

1030 – 1080

8

5

Phoenix Contact/ RS232

Beam-Expander mot. 1x...4x
515 – 540 nm SubD9/ RS232

1030 – 1080

8

5

USB 2.0


LINOS Motorized Variable Beam Expander, 2x-8x, Fused Silica
Part No.

Product description

Wavelength

Max. entrance-beam diameter
truncated at 1/e²

Lens elements

PC Interface

 

 

(nm)

(mm)

 

 

Beam-Expander mot. 2x...8x
340 - 360 nm SubD9/ RS232

340 - 360

6

5

SubD9/ RS232

Beam-Expander mot. 2x...8x
340 - 360 nm Phoenix Contact

340 - 360

6

5

Phoenix Contact/ RS232

Beam-Expander mot. 2x...8x
340 - 360 nm USB 2.0

340 - 360

6

5

USB 2.0

Beam-Expander mot. 2x...8x
515 – 540 nm SubD9/ RS232

515 – 540

8

5

SubD9/ RS232

Beam-Expander mot. 2x...8x
515 – 540 nm Phoenix Contact

515 – 540

8

5

Phoenix Contact/ RS232

Beam-Expander mot. 2x...8x
515 – 540 nm USB 2.0

515 – 540

8

5

USB 2.0

Beam-Expander mot. 2x...8x
1030 – 1080 nm SubD9/ RS232

1030 – 1080

8

5

SubD9/ RS232

Beam-Expander mot. 2x...8x
1030 – 1080 nm Phoenix Contact

1030 – 1080

8

5

Phoenix Contact/ RS232

Beam-Expander mot. 2x...8x
1030 – 1080 nm USB 2.0

1030 – 1080

8

5

USB 2.0
General technical features:
10 individual pre-sets for magnification and divergence
Fast adjustment from 1x to 4x or 2x to 8x up to 7 sec
Entrance-beam diameter max. = 31 mm / zoom factor
Exit-beam diameter: max. 31 mm
Pointing stability < 0.5 mrad
Including protective glass
Versions 4401-634-000-xx natural anodized
Mechanics:
Mechanical dimensions: length 167 mm (1x-4x), 203 mm (2x-8x), width 58 mm, height 55.5 mm
Mechanical interface via high-precision holes 6H7 (recommended) or mounting diameter 39h11
Electronics:
Different electronic interfaces: SubD9/ RS232, USB 2.0, Phoenix Contact/ RS232
Baud rate: 9600 bit/sec
Power input 7–12 V, Phoenix Contact 7-24 V
Laser-damage threshold values:
Laser-damage threshold coating up to 4 J/cm² @355 nm with 6 ns pulse length, 100 Hz and 0.4 J/cm² @343 nm with 200 fs pulse length, 1 kHz
Laser-damage threshold coating up to 20 J/cm² @532 nm with 8 ns pulse length, 100 Hz and 0.6 J/cm² @515 nm with 204 fs pulse length, 50 kHz
Laser-damage threshold coating up to 40 J/cm² @1064 nm with 12 ns pulse length, 100 Hz and 0.9 J/cm² @1030 nm with 291 fs pulse length, 5 kHz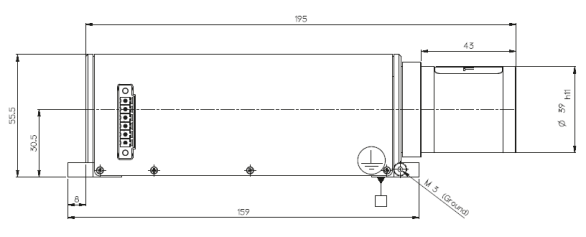 LINOS Motorized Variable Beam Expander, 1x-4x, Fused Silica
Part No.

Product description

Wavelength

Max. entrance-beam diameter
truncated at 1/e²

Lens elements

PC Interface

 

 

(nm)

(mm)

 

 

Beam-Expander mot. 1x...4x
340 – 360 nm USB 2.0

340 – 360

8

5

SubD9/ RS232

Beam-Expander mot. 1x...4x
515 – 540 nm SubD9/ RS232

340 – 360

8

5

Phoenix Contact/ RS232

Beam-Expander mot. 1x...4x
515 – 540 nm Phoenix Contact

340 – 360

8

5

USB 2.0

Beam-Expander mot. 1x...4x
515 – 540 nm USB 2.0

515 – 540

8

5

SubD9/ RS232

Beam-Expander mot. 1x...4x
1030 – 1080 nm SubD9/ RS232

515 – 540

8

5

Phoenix Contact/ RS232

Beam-Expander mot. 1x...4x
1030 – 1080 nm Phoenix Contact

515 – 540

8

5

USB 2.0

Beam-Expander mot. 1x...4x
1030 – 1080 nm USB 2.0

1030 – 1080

8

5

SubD9/ RS232

Beam-Expander mot. 1x...4x
340 – 360 nm USB 2.0

1030 – 1080

8

5

Phoenix Contact/ RS232

Beam-Expander mot. 1x...4x
515 – 540 nm SubD9/ RS232

1030 – 1080

8

5

USB 2.0


LINOS Motorized Variable Beam Expander, 2x-8x, Fused Silica
Part No.

Product description

Wavelength

Max. entrance-beam diameter
truncated at 1/e²

Lens elements

PC Interface

 

 

(nm)

(mm)

 

 

Beam-Expander mot. 2x...8x
340 - 360 nm SubD9/ RS232

340 - 360

6

5

SubD9/ RS232

Beam-Expander mot. 2x...8x
340 - 360 nm Phoenix Contact

340 - 360

6

5

Phoenix Contact/ RS232

Beam-Expander mot. 2x...8x
340 - 360 nm USB 2.0

340 - 360

6

5

USB 2.0

Beam-Expander mot. 2x...8x
515 – 540 nm SubD9/ RS232

515 – 540

8

5

SubD9/ RS232

Beam-Expander mot. 2x...8x
515 – 540 nm Phoenix Contact

515 – 540

8

5

Phoenix Contact/ RS232

Beam-Expander mot. 2x...8x
515 – 540 nm USB 2.0

515 – 540

8

5

USB 2.0

Beam-Expander mot. 2x...8x
1030 – 1080 nm SubD9/ RS232

1030 – 1080

8

5

SubD9/ RS232

Beam-Expander mot. 2x...8x
1030 – 1080 nm Phoenix Contact

1030 – 1080

8

5

Phoenix Contact/ RS232

Beam-Expander mot. 2x...8x
1030 – 1080 nm USB 2.0

1030 – 1080

8

5

USB 2.0
General technical features:
10 individual pre-sets for magnification and divergence
Fast adjustment from 1x to 4x or 2x to 8x up to 7 sec
Entrance-beam diameter max. = 31 mm / zoom factor
Exit-beam diameter: max. 31 mm
Pointing stability < 0.5 mrad
Including protective glass
Versions 4401-634-000-xx natural anodized
Mechanics:
Mechanical dimensions: length 167 mm (1x-4x), 203 mm (2x-8x), width 58 mm, height 55.5 mm
Mechanical interface via high-precision holes 6H7 (recommended) or mounting diameter 39h11
Electronics:
Different electronic interfaces: SubD9/ RS232, USB 2.0, Phoenix Contact/ RS232
Baud rate: 9600 bit/sec
Power input 7–12 V, Phoenix Contact 7-24 V
Laser-damage threshold values:
Laser-damage threshold coating up to 4 J/cm² @355 nm with 6 ns pulse length, 100 Hz and 0.4 J/cm² @343 nm with 200 fs pulse length, 1 kHz
Laser-damage threshold coating up to 20 J/cm² @532 nm with 8 ns pulse length, 100 Hz and 0.6 J/cm² @515 nm with 204 fs pulse length, 50 kHz
Laser-damage threshold coating up to 40 J/cm² @1064 nm with 12 ns pulse length, 100 Hz and 0.9 J/cm² @1030 nm with 291 fs pulse length, 5 kHz