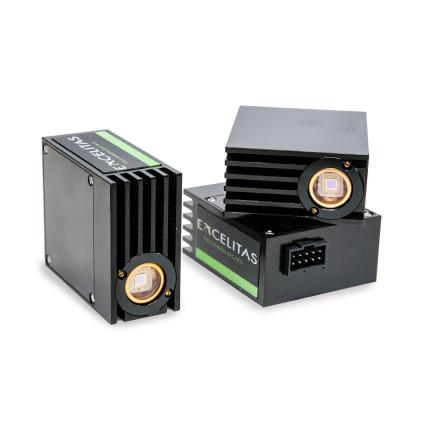 PART/ LynX-A-33-W50-T1-X
LynX SiPM Module
The Excelitas LynX™ Silicon Photomultiplier Module is a compact, easy-to-use, analogue low-light-level detection (L³D) module employing a leading-edge Silicon Photomultiplier (SiPM) chip in a hermetic TO-8 package with thermoelectric cooler, a stable voltage power supply circuit, and a low-noise transimpedance amplifier.
In this compact, voltage-output module, the preamplifier gain is optimized to obtain maximum dynamic range and linearity with the SiPM at a pre-set operating voltage. It outperforms other SiPM solutions in key performance parameters such as higher photon detection efficiency (PDE) and better signal-to-noise ratio across the full 400 nm - 900 nm wavelength spectrum.
Excelitas' LynX™ SiPM module is offered as a standard, commercial-off-the-shelf (COTS) product. It contains a 3x3 mm active area SiPM with 50x50 µm microcells for optimum fill factor and PDE. Other chip configurations are available upon request.
In addition to our standard, off-the-shelf SiPM module, Excelitas also offers customized modules tailored from our standard designs.
0.75 V/nW @ 525 nm (typ.)
0.4 V/nW @ 700 nm (typ.)
Excellent signal to noise ratio as compared to traditional PMTs
High dynamic range and linearity
Low NEP
Built-in TE cooler
Compact and user-friendly
0.75 V/nW @ 525 nm (typ.)
0.4 V/nW @ 700 nm (typ.)
Excellent signal to noise ratio as compared to traditional PMTs
High dynamic range and linearity
Low NEP
Built-in TE cooler
Compact and user-friendly