Excelitas Technologies Introduces pco.pixelfly™ 1.3 SWIR Camera
New machine vision camera will be featured at VISION 2022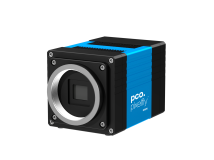 Excelitas Technologies® Corp., a global technology leader delivering innovative, customized photonic solutions, introduces its new high-performance pco.pixelfly™ 1.3 SWIR Camera. It is the newest addition to Excelitas' family of pco.pixelfly high-performance machine vision cameras.
The new machine vision camera features a special InGaAs image sensor that is IMX990-sensitive in the shortwave infrared, near infrared and visible range of the electromagnetic spectrum. As a result, pco.pixelfly shows high sensitivity across the entire spectral range with more than 90% in shortwave infrared. The camera's small 5 µm x 5 µm pixels enable the use of small magnification optics in microscopy. It works with long exposure times due to a low dark current, with excellent quantum efficiency of > 90%.
The pco.pixelfly 1.3 SWIR camera is suitable for use in a variety of applications, including waste sorting, smart farming and food processing quality control, pharmaceutical and other product packaging industries, life science research, and medical uses such as in surgical microscopes and in vivo imaging, in vivo microscopy and intravital microscopy.
Excelitas will present a live demonstration of pco.pixelfly 1.3 SWIR Camera with Excelitas' Optem® FUSION Micro-Imaging Lens System at its booth during VISION Stuttgart in Stuttgart, Germany, October 4-6, 2022 (Hall 10, E51).
# # # 
About Excelitas Technologies
Excelitas Technologies® Corp. is a leading industrial technology manufacturer focused on delivering innovative, market-driven photonic solutions to meet the illumination, optical, optronic, sensing, detection and imaging needs of our OEM and end-user customers. Serving a vast array of applications across biomedical, scientific, semiconductor, industrial manufacturing, safety, security, consumer products, defense and aerospace sectors, Excelitas stands committed to enabling our customers' success in their many various end-markets. Our team consists of more than 7,500 professionals working across North America, Europe and Asia, to serve customers worldwide.
Connect with Excelitas on Facebook, LinkedIn, Twitter and Instagram, or visit http://www.excelitas.com for more information.
Excelitas®, Excelitas Technologies®, LINOS®, PCO® and Optem® are registered trademarks, and pixelfly™ is a trademark of Excelitas Technologies Corp. All other products and services are either trademarks or registered trademarks of their respective owners.
 
Contacts:  
Scott Orr 
Senior Director of Global Marketing - Commercial 
[email protected]  
+1 (781) 996-5925 
 
Cheryl Reynhout or Jill Anderson 
On Behalf of Excelitas Technologies Corp. 
SVM Public Relations 
[email protected] 
+1 (401) 490-9700 
Download a PDF of this press release.