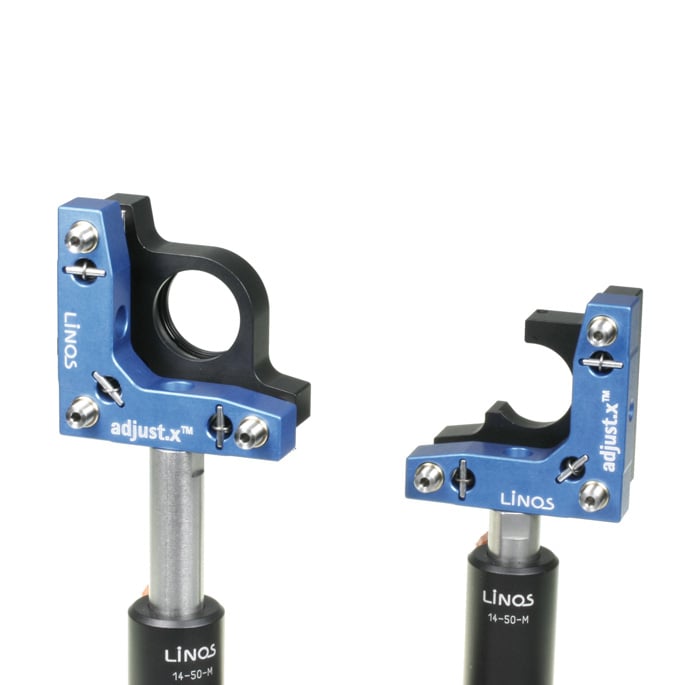 LINOS Mirror Mounts
Mirror mounts are an essential element in optical assemblies. The variety of mounts available from Excelitas includes Lees, LINOS® Standard and LINOS Adjust.X Mirror Mounts to meet a range of requirements across science and industry.
Lees® Mirror Mounts represent our premium line of mirror mounts and feature a unique design ensuring the highest possible precision. Their excellent quality is further ensured by features such as fine adjustment screws that are specially ground for mutual fit with the least possible backlash, counter surfaces of sapphire and the special Krytox lubricant.
Our Adjust.x® Mounts offer streamlined and economical mounting for mirror diameters from 0.5 - 2". Adjust.x mirror mounts are equipped with three fine thread screws made of stainless steel in a brass bushing. Using tight tolerances, the screws have low hysteresis and backlash. These Allen key screws guarantee a wobble free movement, high precision, and long term stability.
LINOS Standard Mirror Mounts offer a variety of configurations and deliver precision micrometer movement for mirrors. Top-mounted adjustment screws make adjustment easy in space-restricted setups and feature conveniently color-coded screws for roll and pitch axes.
Visit Qioptiq-Shop to learn about our full line of LINOS Mirror Mounts.