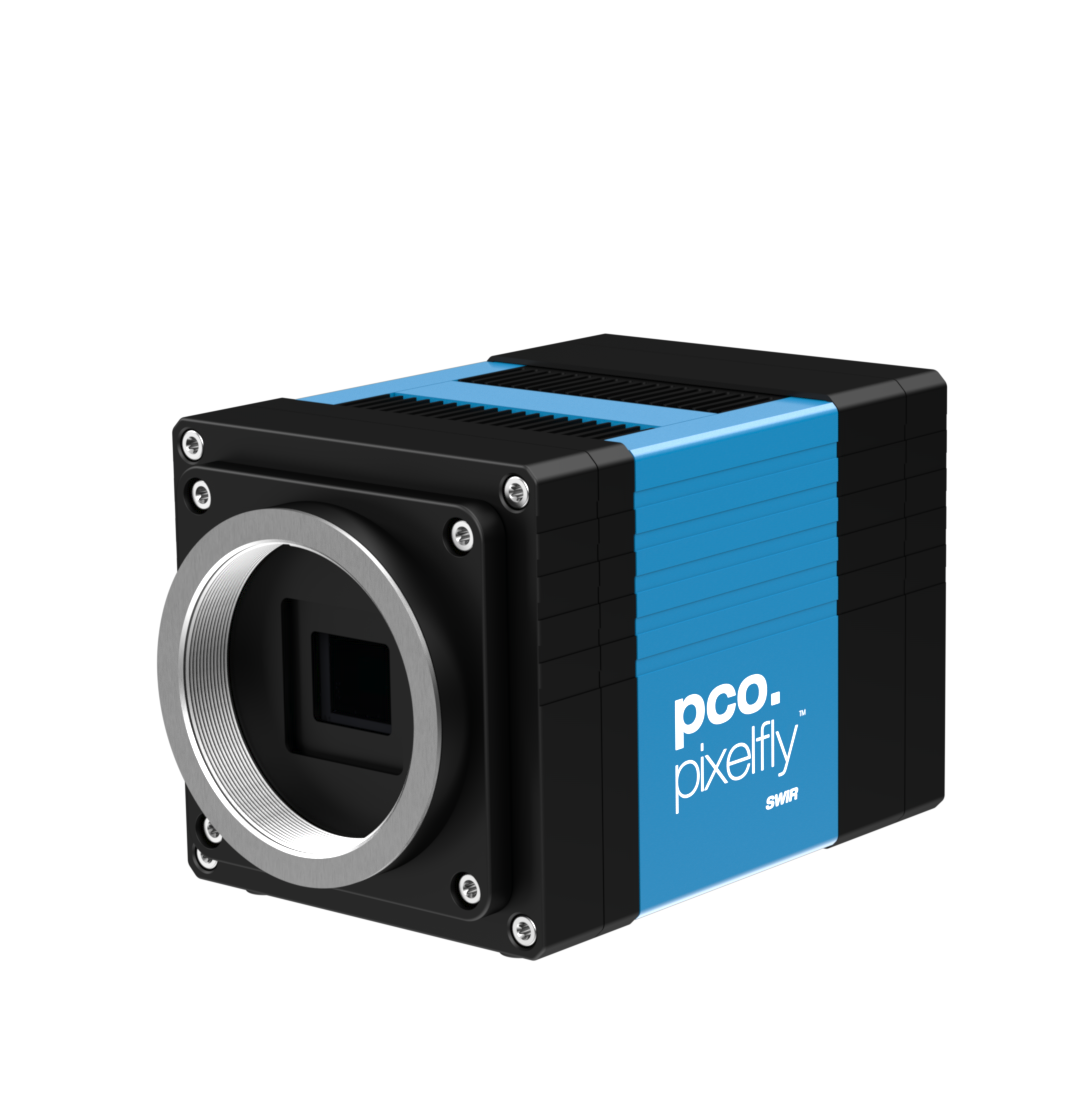 pco.pixelfly 1.3 SWIR
The Excelitas pco.pixelfly™ 1.3 SWIR is a high-performance machine vision camera due to its special InGaAs image sensor which is sensitive in the shortwave infrared (SWIR), near infrared and visible range of the electromagnetic spectrum. It shows a favorably high sensitivity in the whole spectral range with up to 90 % in the shortwave infrared band. The small pixels enable the use of small magnification optics in microscopy and a low dark current for long exposure times.
High Sensitivity
The pco.pixelfly 1.3 SWIR camera is highly sensitive to shortwave infrared light, making it ideal for use in low-light or challenging imaging environments. The camera can capture high-quality images even in situations where both, visible light as well as near-infrared light, are required for the application.

Wide Spectral Range
VIS & SWIR cameras have a wide spectral range, typically between wavelengths of 400 and 1700 nanometers, allowing them to capture a wide range of information and detail in this broad band of the light spectrum.

Robust Design
Designed to withstand the harsh environments often encountered in industrial and scientific applications, the pco.pixelfly 1.3 SWIR camera is durable, reliable and long-lasting, making it an ideal choice for demanding imaging applications.

High Resolution
This high-resolution imaging camera offers the ability to capture clear and detailed images in even the most challenging of environments making it suitable for applications such as industrial inspection, material analysis, and scientific research.

Versatile
The pco.pixelfly 1.3 SWIR camera can be used in a wide range of applications, from low-light imaging to industrial inspection, material analysis, and scientific research. With the ability to operate effectively in challenging environments and capture detailed images in the short-wave infrared spectrum, this versatile camera is a valuable tool for many industrial applications.
Also, try our MachVis Lens Selector tool to help identify the perfect lens solution and PCO camera for your imaging and machine vision requirements.
 

 

Interface

USB 3.1 Gen 1

Sensor technology

InGaAs

Spectral range

350 to 1700 nm

Resolution 

1280 x 1024 pixels

Sensor diagonal

8.2 mm

Pixel size

5 x 5 μm

Maximum frame rate

@ full resolution

72 fps

Maximum pixel rate

93 MPixel/s

Peak QE

90 % @ 1200 nm

Typ. read noise1

210 e-

Dark current @ sensor temperature

2000 @ +5 °C e-/pixel/s

Maximum dynamic range

680:1

Shutter type

GS (global shutter)

Sensor cooling2

Peltier with forced air

Dimensions (H x W x L)

70 x 70 x 115 mm
1 The readout noise values are given as root mean square (rms). All values are raw data without any filtering
2 air = air forced with fan
 

 

Interface

USB 3.1 Gen 1

Sensor technology

InGaAs

Spectral range

350 to 1700 nm

Resolution 

1280 x 1024 pixels

Sensor diagonal

8.2 mm

Pixel size

5 x 5 μm

Maximum frame rate

@ full resolution

72 fps

Maximum pixel rate

93 MPixel/s

Peak QE

90 % @ 1200 nm

Typ. read noise1

210 e-

Dark current @ sensor temperature

2000 @ +5 °C e-/pixel/s

Maximum dynamic range

680:1

Shutter type

GS (global shutter)

Sensor cooling2

Peltier with forced air

Dimensions (H x W x L)

70 x 70 x 115 mm
1 The readout noise values are given as root mean square (rms). All values are raw data without any filtering
2 air = air forced with fan