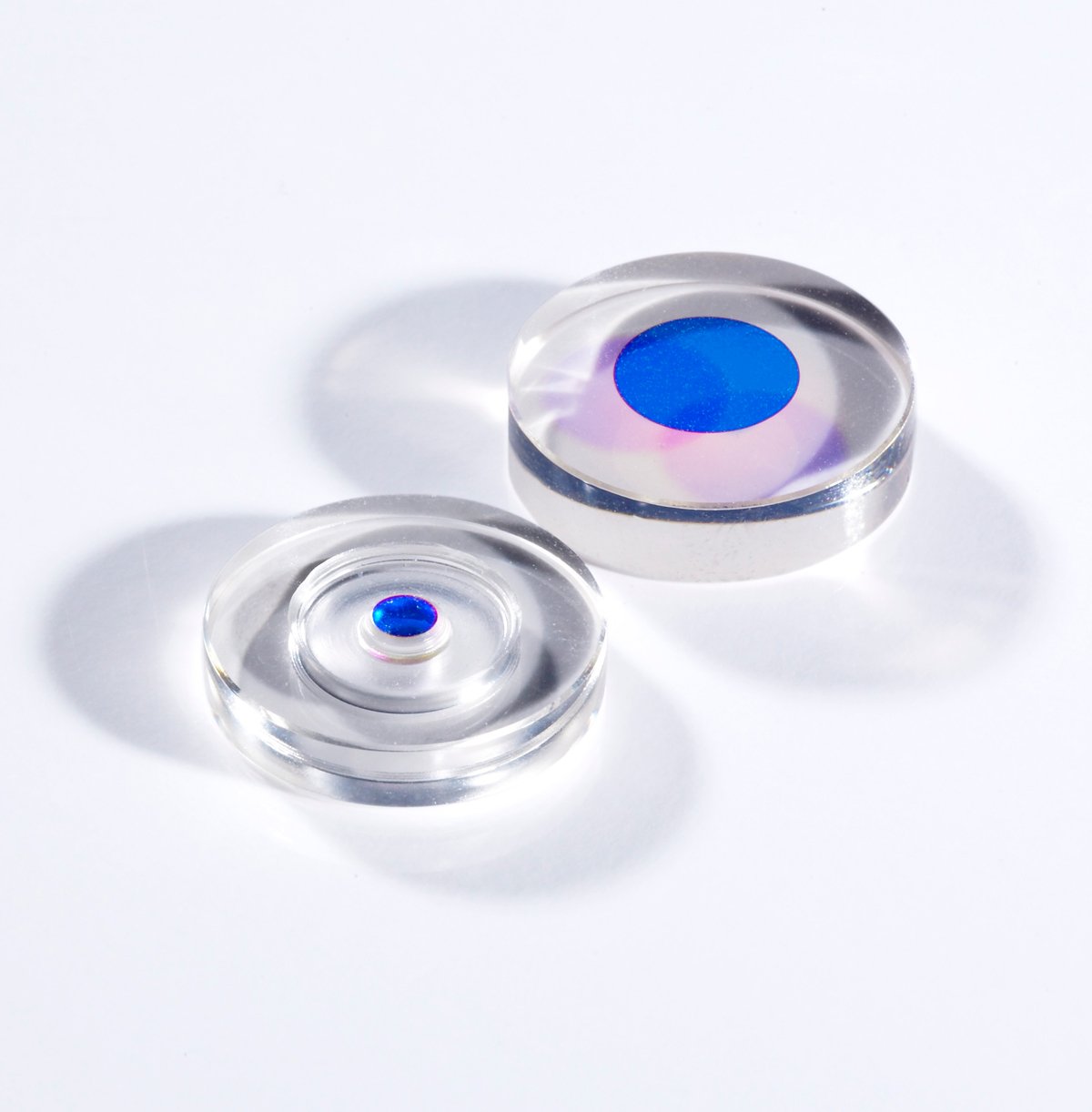 Ring Laser Gyroscope Optics
Our ring laser gyroscope optics offer micro-roughness below 0.5 Å, scattering loss of under 5 ppm and finesse of 200,000 when incorporated into optical cavities. Normal superpolished mirrors only reach 100 ppm loss and finesse of 30,000. Our Ion beam sputtered coating's (IBS) reflectance is greater than 99.998% for 450 nm - 2 µm. Substrate materials include BK7, fused-silica, Zerodur, ULE, sapphire and silicon. Diameters from 0.25 to 4.0 inch (6 mm to 101 mm), flatness's of λ/20 - λ/50 (at 633 nm), 10-5 surface quality over an 80% clear aperture, and zero defects (0-0) achievable for controlled sub-apertures.
Our ring laser gyro mirrors  and optical components offer superior micro-surface roughness, reflectivity and lowest scatter for all RLG applications. Plano, concave convex surface shapes are available. We utilize a suite of advanced metrology instrumentation to maintain and verify these performance specifications, including phase shifting interference microscopy, cavity ringdown measurements and photothermal common path interferometers.
Key Product Parameters:
Surface Roughness:

micro-roughness below 0.5 Å, scattering loss of under 5 ppm and finesse of 200,000 when incorporated into optical cavities

Flatness: λ/20 to λ/50 (at 633 nm)
Surface Quality: 10-5 surface quality over an 80% clear aperture, with zero defects (0-0) achievable over controlled sub-apertures
Materials: BK7, fused-silica, Zerodur, ULE, sapphire and silicon
Dimensions: 0.25 to 4.0 inch (6 mm to 101 mm)
Reflectivity: greater than 99.998% wavelength regions within 450 nanometers - 2 microns
Surface Roughness:

micro-roughness below 0.5 Å, scattering loss of under 5 ppm and finesse of 200,000 when incorporated into optical cavities

Flatness: λ/20 to λ/50 (at 633 nm)
Surface Quality: 10-5 surface quality over an 80% clear aperture, with zero defects (0-0) achievable over controlled sub-apertures
Materials: BK7, fused-silica, Zerodur, ULE, sapphire and silicon
Dimensions: 0.25 to 4.0 inch (6 mm to 101 mm)
Reflectivity: greater than 99.998% wavelength regions within 450 nm - 2 µm
Surface Roughness:

micro-roughness below 0.5 Å, scattering loss of under 5 ppm and finesse of 200,000 when incorporated into optical cavities

Flatness: λ/20 to λ/50 (at 633 nm)
Surface Quality: 10-5 surface quality over an 80% clear aperture, with zero defects (0-0) achievable over controlled sub-apertures
Materials: BK7, fused-silica, Zerodur, ULE, sapphire and silicon
Dimensions: 0.25 to 4.0 inch (6 mm to 101 mm)
Reflectivity: greater than 99.998% wavelength regions within 450 nm - 2 µm