Display Manufacturing Enriches Consumer Products
New manufacturing technologies enable higher-quality displays — from big-screen TVs to smartphones — for consumer electronics
Consumer electronics are growing more sophisticated, at breakneck speed and with remarkable advancements in technology and refinement.
A highly visible example is the ever increasing picture clarity in large-screen TVs, and in the evolution of smartphone products that have become essential social and productivity mobile companions to consumers in their everyday lives. A quick tour of your nearest Best Buy will introduce a dizzying array of the latest and greatest products delivering seemingly endlessly sharper resolution and increased screen size.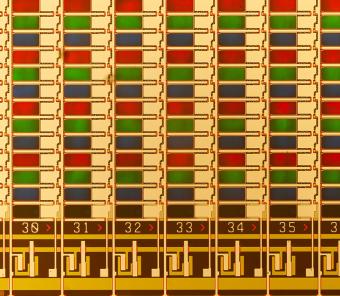 High-tech display technology enables the development of these advanced products. Ultra-HD (UHD) televisions with 4K displays are commonly available in stores, and even higher-resolution 8K screens are coming on the market, albeit at prohibitive prices (for now). The dichotomy of product requirements between large-screen TVs and advanced smartphones (in addition to tablets, computer monitors, and so on) — and the expectation that both will offer sharp, vivid images — means manufacturing is turning to tighter and tighter tolerances. None of this would be possible without rapidly evolving inspection technologies keeping pace to detect microscopic imperfections in the submicron range.
Read our new article in the September 2019 issue of Photonics Spectra to learn how the latest display manufacturing technologies are enriching consumer products for higher-quality consumer electronics displays. Download a pdf copy below or view it online at Photonics Media. 
Article published by Photonics Media.