NIR Spectroscopy Engines
Process control solution providers now have access to high performance micro-spectrometers designed to provide high resolution spectral data for Process Analytical Technology (PAT)/Pharmaceutical applications, real-time process control in Oil and Gas applications, and for general manufacturing process measurements with the IntegraSpec XL™. Excelitas' line of Axsun NIR Analyzers are designed to support methods development and provide for an easy conversion from the lab to the process environment.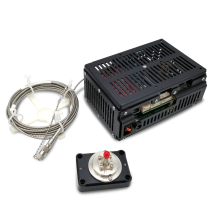 High-Performance Near Infrared (NIR) Spectrometer Engines
Excelitas' line of Axsun IntegraSpec<sup>® </sup>XL NIR spectrometers offer an unmatched combination of fast measurement speed, high spectral resolution and signal-to-noise ratio (SNR) for process monitoring applications. Based on Axsun's MEMs tunable laser technology, the IntegraSpec XL line...
Read More