Tunable Lasers
Excelitas offers a range of Tunable Laser Solutions to afford scientific researchers and systems design engineers the ultimate in wavelength selectivity, frequency tunability, wide tuning bandwidth and output control. Engage us for off-the-shelf and custom laser engine solutions to meet your most demanding Single- or Multi-line wavelength requirements.
Additional Resources
Why should you choose Excelitas as your provider of tunable lasers?
Excelitas is a world-renowned provider of superior photonics technologies. We research, design, manufacture, and test our products in state-of-the-art facilities in Canada, Germany, Singapore, the Philippines, and Indonesia, among others.
What kind of tunable lasers do you offer?
Our tunable laser solutions refer to laser diodes with broad wavelength tuning ranges. Excelitas' lineup of these high-performance lasers includes:
Axsun Swept Source Optical Coherence Tomography (SS-OCT) Lasers: These lasers provide tuning bandwidths up to 140 nanometers (nm), output power, sweep speeds up to 400 kilohertz (kHz), and coherence lengths measured in meters.
These qualities enable superior performance in next-generation optical coherence tomography (OCT) systems in applications from high-resolution retinal imaging and industrial defect identification. Our Axsun laser platform is highly scalable for OCT system vendors across many medical and non-medical markets.
iFLEX-Agile® Tunable Laser Engine: Derived from our rich Qioptiq photonics heritage, this device is a compact, high-power, continuous-wave optical parametric oscillator (OPO) offering exceptionally broad tunability.
For instance, it enables the modification of wavelength tuning ranges, emission line widths, and output power levels – making it a custom, cost-efficient solution for various applications.
What is a tunable laser used for?
The
Axsun SS-OCT Laser
is ideal for OCT and near-infrared (NIR) spectroscopic applications, including:
High-resolution retinal imaging
Industrial defect identification
Wide-field three-dimensional ranging
Depth-resolved localization of chemical species in translucent materials
Aside from imaging systems, Axsun products also prove valuable in the telecom industry. Meanwhile, the
iFLEX-Agile Tunable Laser Engine
works best for applications in:
Trace-gas analysis
Detector calibration
Mass spectrometry
Material testing
Spectroscopy
Metrology
What is the quality assurance process for your tunable lasers?
We meet the requirements for the reliability of photonic solutions, under the rigorous Telcordia qualification standards. Further, our engineering team provides support and showcases decades of expertise in laser and OCT system technology.
Do you offer custom tunable lasers?
Yes, we do. Our
laser products
are off-the-shelf or custom engineered depending on your specific needs. In particular, our Axsun laser engines have several configurations suitable for different applications. There's an ultra-compact small form factor engine with laser only. For laboratory use, we offer a robust benchtop enclosure. Also, we design OEM engines that support a variety of optional integrated features like balanced photoreceivers, data acquisition electronics, aiming lasers, and interferometers.
Contact us
today, and we'll help you get your vision off the ground.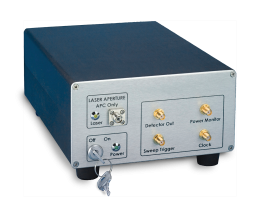 High-Speed SS-OCT Tunable Laser Engines
Excelitas' line of Axsun Swept-Source OCT Lasers provide an unrivaled balance of tuning bandwidth, output power, sweep speed, and coherence length to enable cutting-edge performance in next-generation Optical Coherence Tomography systems. A unique design based on our micro-optical integration...
Read More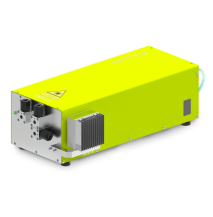 iFLEX-Agile cw-Optical Parametric Oscillator
The compact iFLEX-Agile<sup>®</sup> combines various cw-OPO modules and pump-sources to deliver exceptionally broad wavelength tunability in different ranges from NIR to MIR with various emission linewidths and power levels.
Read More