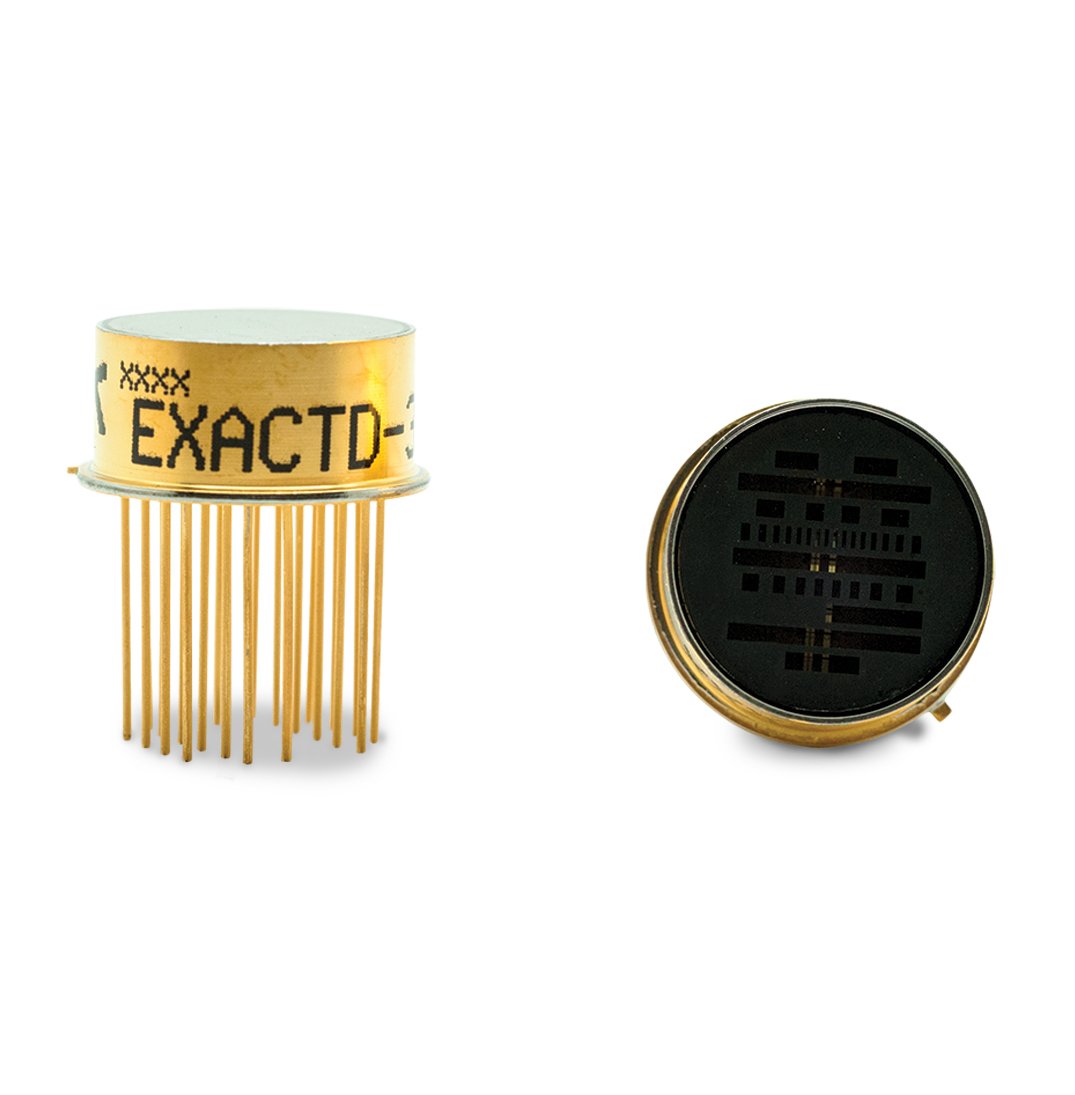 PART/ EXACTD-362
EXACTD-362 Angle-of-Arrival Photodiode Module
The Excelitas EXACTD® platform is designed for use in Laser Warning Receiver Systems to detect and provide precise angle-of-arrival (AoA) information from direct and indirect scattered light from laser range finders, target designators, and active laser Electro-Optic (E.O.) systems.
The 6‑bit Gray code design of the EXACTD allows encoding of incident AoA with an angular resolution of ±0.8°, in either azimuth or elevation depending on the module's orientation, over the ±45° field-of-view (FoC).
The Si and InGaAs detector arrays have a combined spectral sensitivity range of 500 – 1650 nm in a small compact TO-8 can.
Features & Benefits:
Spectral sensitivity range of 500 – 1650 nm
6-bit design for precise ±0.8˚ AoA accuracy, in either azimuth or elevation
FOV is ±45˚ for both azimuth and elevation angles
Low- and high-sensitivity channels for wide dynamic range
Three reference channels are provided in each photodiode array for baseline signal level determination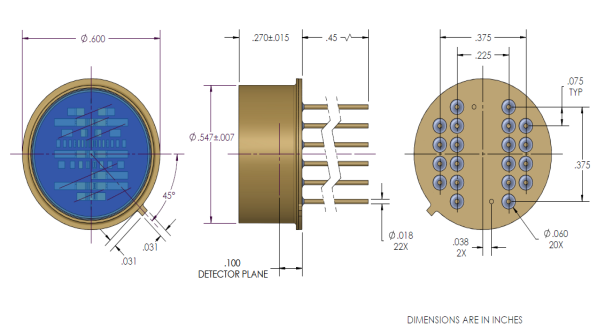 Wavelength range (nm): 500 to 1650
Bias voltage (V): 12
Typical Responsivity (A/W): 0.2 A/W at 500 nm
Typical Responsivity (A/W): 0.4 A/W at 900 nm
Typical Responsivity (A/W): 0.5 A/W at 1064 nm
Typical Responsivity (A/W): 0.7 A/W at 1540 nm
Maximal dark current per element (nA) : 20
Noise current per element (pA/√Hz): 0.5
Typical capacitance per element (pF): 12
Typical rise and fall time (ns): 5
Dynamic range (dB): 60
Field of view (º): ±45
Typical Angle-of-Arrival (AoA) accuracy (RMS error) (º): 0.8
Maximal pointing error (º): 1.0
Case operating temperature (℃): -40 to 85
Typical maximal incident power (kW/cm²): 1.2
Minimal damage threshold (kW/cm²): 100
Wavelength range (nm): 500 to 1650
Bias voltage (V): 12
Typical Responsivity (A/W): 0.2 A/W at 500 nm
Typical Responsivity (A/W): 0.4 A/W at 900 nm
Typical Responsivity (A/W): 0.5 A/W at 1064 nm
Typical Responsivity (A/W): 0.7 A/W at 1540 nm
Maximal dark current per element (nA) : 20
Noise current per element (pA/√Hz): 0.5
Typical capacitance per element (pF): 12
Typical rise and fall time (ns): 5
Dynamic range (dB): 60
Field of view (º): ±45
Typical Angle-of-Arrival (AoA) accuracy (RMS error) (º): 0.8
Maximal pointing error (º): 1.0
Case operating temperature (℃): -40 to 85
Typical maximal incident power (kW/cm²): 1.2
Minimal damage threshold (kW/cm²): 100