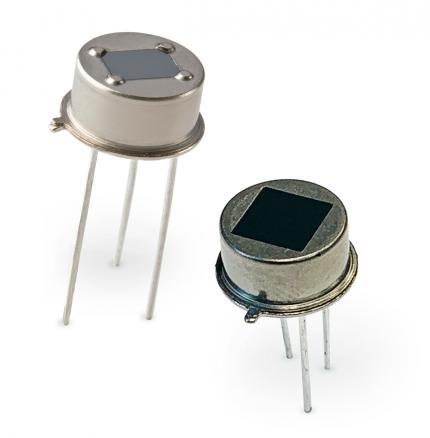 PART/ PYQ 5848, PYQ 2898
PYQ 5848, PYQ 2898 Dual Output Quad-Element DigiPyros
The PYQ 5848 and PYQ 2898 are 4-element dual channel digital sensors in a TO-5 metal housing. The PYQ 5848 has diagonally arranged element pairs for ceiling applications while the PYQ 2898 has parallelly arranged element pairs for wall mounted applications. These Pyrodetectors are part of the DigiPyro® family that feature internal integrated circuitry to convert the element signals into a 14-bit digital output.
These DigiPyro Detector Series in TO-5 housing include Quad-Element types with different element configurations with matching window sizes.  
The PYQ 5848 has diagonally arranged element pairs with a 2 channel output. The diagonal arrangement allows for a motion direction independent designs like required for ceiling applications. The separation into 2 channels improves the signal-to-noise performance over 1 channel 4-element designs (like found for example in the cost effective PYQ 1748 sensor version). 
The PYQ 2898 has element pairs in parallel orientation. This allows for differential motion analysis and can for example be used to distinguish between object sizes like required for pet immune wall applications.  
Both the PYQ 5848 and PYQ 2898 models include a built-in temperature diode which provides output related to the pyro internal temperature. This makes the output signal into a 3x14 bit signal, communicated in one digital bit stream output via a single wire "direct link" connection to a suitable host microprocessor. 
Features 
Integrated digitization 
High-responsivity ceramic pyroelectric elements 
Quad detector with 4x1x1(.4) mm2 elements 
Up to 124° Field-of-view (PYQ 5848) 
TO-5 metal housing for high EMI immunity 
Best for advanced motion detection algorithms 
Applications 
Long-distance motion detection (with lens) 
Energy saving applications 
Intrusion alarms 
Pet immune designs (PYQ 2898) 
Ceiling (PYQ 5848) and Horizontal (PYQ 2898) mounting applications 
Responsivity: 4.5 kV/W (PYQ 2898) 8kV/W (PYQ 5848) (typical) 
Noise: 6 digits (typ), 15 digits (max) 
Housing with optical window: TO-5 
Power requirement: 2.7-3.6 V / 10 µA 
PYQ 5848 Field-of-view (horiz/vert): 124° 
PYQ 2898 Field-of-view (horiz): 100° 
Responsivity: 4.5 kV/W (PYQ 2898) 8kV/W (PYQ 5848) (typical) 
Noise: 6 digits (typ), 15 digits (max) 
Housing with optical window: TO-5 
Power requirement: 2.7-3.6 V / 10 µA 
PYQ 5848 Field-of-view (horiz/vert): 124° 
PYQ 2898 Field-of-view (horiz): 100°